Are you looking for a way to hide your Instagram followers? You are not the only one. People have been doing it and finding solutions around the topic. Why? There are various reasons, starting with the fact that you don't want to reveal your follower count. So, is that follower count too low for others to see? Is it too high, and you are worried that it may trigger unwanted questions from prying eyes?
We will focus on how to hide followers on Instagram using various methods. You can then choose the one you are comfortable with based on the nature of your account and preference. Let's go into those ways to hide followers on IG.
Can You Hide Followers on Instagram?
Let's cut to the chase – unlike the Instagram hide likes feature, there is no direct way to hide followers on Instagram from all. You may have stumbled on an account telling you that 'Only (IG name) can see all their followers' or something like that. It happens if you are perusing a celebrity's account. If people can see those followers, the restriction is not on everyone.
Also, it means you cannot entirely hide followers from others.
On the other hand, can you hide followers on Instagram for particular people? That is possible. You can learn how to hide followers on Instagram using other strategies, such as limiting those who can view the followers, as we will see in the three methods below.
How to Hide Followers on Instagram by Setting a Private Account
Did you know that if you set your account to private, people who don't follow you will not see your follower count? Well, that is one of the ways you can use to hide followers on IG. The steps to do that are as follows:
Step 1: Join your Insta account and click on the profile icon at the bottom right.
Step 2: Go to the top-right and tap the three horizontal lines. Select 'Settings' from the pop-up at the bottom and then hit 'Privacy' to proceed.
Step 3: Check the 'Private Account' option and switch it on using the available switch icon.
How to see a private Instagram account? Check the best private Instagram viewer app >>
How to Hide Followers on Instagram by Removing Followers
Your account is now set to private. That means the only people who have followed the account can view your follower count. Now, you can remove those who follow you if you don't want them to see the followers you have.
So, if you have someone you would like to prevent from seeing how many followers you have, here is how you can unfollow them:
Step 1: Tap the profile photo at the bottom of your Instagram page.
Step 2: Go to the Followers at the top. Tap there and scroll to see the person you want to remove.
Step 3: Tap the 'Remove' icon against the name to confirm the removal.
How to Hide Followers on Instagram by Blocking Certain People
You may want your account to remain public but still restrict some people from viewing your follower count. So, you can learn how to hide your followers on Instagram without a private account. Follow the steps below to block that person:
Step 1: Visit your profile and click on the person you want to block. Tap the three dots at the top-right once you see their profile.
Step 2: Tap on 'Block' and then tap it again to confirm the choice.
Frequent FAQs on How to Hide Followers on Instagram
How to hide specific followers from viewing my IG stories?
Visit your Instagram account and access the settings. Click on 'Privacy' and then 'Story' to see the number of people you can restrict from accessing your story. Tap the number of people and select the ones you would like to block from viewing your story. After that, hit 'Done' to complete the process.
You can also manage Instagram Reels views by following the steps.
Can I hide who I'm following on Instagram?
If you want to hide those you are following, tap on the profile icon and then the three dots at the top right. Select 'Settings' from the popup and then 'Privacy' to proceed. Go to 'Private Account' and switch it on to hide those you follow from those who don't follow you.
That is also the same way to hide posts.
Will people know if I block them on Instagram?
Instagram does not notify people when you block them. If you do it, they will not be able to access your account, and their engagements will also be removed from your IG profile.
Can I view a blocked Instagram account?
If someone has blocked you from viewing their Instagram account, you cannot access it anymore. The only way to solve that is by getting unblocked or following the person using another profile.
Will it affect my Instagram performance after hiding followers?
You will not affect your account in any way after hiding a few followers. If you want to increase engagement and have more followers, you can use the help of boosting apps such as Getins+.
This is one of the best Instagram followers tools, and it has other benefits as well. Once you have its Android version (Getinsita+) or iOS version (Getinself+) on your phone, you will be able to enjoy the following features:
Real & active Instagram followers: The followers that join your account come from actively running Instagram accounts.

Forever free to use: You are not charged anything to boost your Instagram account using the app. What you earn are coins that you can use to get Instagram followers free.

High security & privacy: No one will know where you are getting the followers from since Getins+ does not share your info with anyone. It also does not ask for sensitive information. It will only require your Instagram username to work with the rest.

Super-fast growth: Once you have your IG account on Getins+, you don't need to worry about getting followers anymore. It will get them for you as you focus on other things, such as creating quality content.
Also read, the best way to get Instagram free followers trials >>
The Bottom Line
That is all about how to hide followers on Instagram. You have reasons to conceal that follower count, and the highlights can fulfill them in the discussion above. Once you manage the hiding, you can now focus on getting more followers using apps like Getins+. It will help you gain more as you prevent those who should not see your progress from seeing it.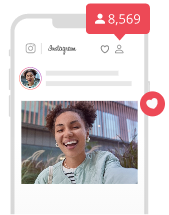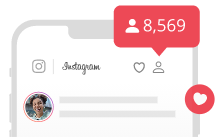 Best Free Instagram Followers & Likes App
Get real, unlimited free Instagram followers likes.
Grow daily, auto, instant Insta followers & likes.
Boost Instagram comments, Instagram reels & reels views quickly.