Since the latest upgrade in 2021, Instagram has not permitted users to view Instagram without an account. In other words, whenever you attempt to view public Instagram profiles, posts, or stories, you will always be redirected to the login page. So how to view Instagram accounts without logging in?
For a variety of reasons, such as checking out a competitor's Instagram feed and strategy, researching the Instagram market, or simply trying to view Instagram accounts anonymously of interested people, you're seeking a new available way to view Instagram without an account, here we will lead you to see Instagram profiles, posts, stories, and followers anonymously without logging in, as well as an easy way to grow Instagram followers for free.
Background Story of Viewing Instagram Without Account
Instagram is the best platform for users to share life and any information. Once you create an account, you can view profiles, posts, stories, and any other content of your friends, celebrities, and so on. Prior to the upgrade, viewing a user's public account without logging in when searching for their Instagram account on Google was possible. Then, Instagram changed the process so that users had to provide credentials in order to access and view any Instagram material. Additionally, before you can access any Instagram profile or post if your VPN is enabled, Instagram will prompt you to log in.
Honestly, it makes sense for Instagram to block its platform that way. Facebook also greatly limits the content that people can see by performing a login. As the social network grows, reaching more than a billion people, tactics like this can help that number increase. In addition, forcing people to log into their accounts can be a good strategy for Instagram to profit from ads.
But in some cases, you do want to check out others' Instagram info without logging in, regardless of viewing Instagram posts, stories, profiles, followers, etc., the following guide can give you a hand.
How to View Public Instagram Without an Account
Since you are not allowed to view Instagram public profiles without an account on the web, you can use third-party tools to search for and view public Instagram accounts without an account. There are really a few services available that are completely free to use.
ImgInn is a good example. Take a look at how it helps you view Instagram without an account.
Step 1. Open your Web browser on your PC, Mac, iPhone, or Android device. Go to the ImgInn website.
Step 2. Input the Instagram profile name or hashtag that you want to view in the search box and press Enter.
Step 3. On the next page, you will see all the Instagram profiles related to the name that you searched for. You can click on Hashtag to see the related Hashtags, or just click on the Profile to view all of its content.
Step 4. On the profile page, just like the original Instagram profile page, you can see all the posts published by this user. As you can see from the screenshot, there is also a download button that allows you to download all Instagram photos or videos to your PC in one click. Besides, you can also view all Instagram stories including those from a few months ago.
How to View Private Instagram Without an Account?
A security breach on Instagram allows anyone to have access to private publications on the social network. To do this, it is sufficient for the user with access to the content to have reasonably basic knowledge of the HTML programming language, to use a browser to inspect and obtain the direct address of the image or video - of the feed or stories - that he would like to distribute to other people.
An interesting point is that the method also works for images and video stories that have expired after 24 hours or have been deleted by the user who posted them. According to BuzzFeed, once the user has access to the direct addresses of the images and videos, the content can still be accessed for a few days.
If you don't know anything about HTML, there are online tools that claim to be able to view Private Instagram profiles without following, but you need to complete some surveys to proceed. There are also tweaked apps that can help you view Instagram private profiles, but you cannot download them from iOS App Store or Google Play Store.
How to View Instagram Stories Without Login
For Instagram stories, you can also use the Online tool StoriesIg to view any stories without logging in to your Instagram account.
Step 1. Go to the StoriesIG website.
Step 2. Just enter the Instagram username and search for all the stories available.
Step 3. View Instagram Stories anonymously after StoriesIg bringing you all the stories available published by these users within 24 hours.
Besides viewing the stories, you can also click the Download button to download the Instagram story whether it is a video or photo.
How to View Instagram Followers Without Account
Typically, to see someone's followers, you need to sign in with your Instagram account online or on the app, and then visit the one that you want to check followers. Well, how to see Instagram followers without an account?
To view Instagram followers without an account, you can make use of some Instagram count tools or some Instagram followers apps. In most cases, they are free of charge. Here is one that enables you to perform an Instagram search without account and see Instagram followers as well.
Steps to View Instagram Followers Without Account
Step 1. Go to this page.
Step 2. Input the username of the Instagram account you want to see and click "Next".
Step 3. Then you will see how many followers this account has, how many accounts it follows, and how many posts it published.
This method not only helps you view Instagram followers without an account but also offers you a quick way to get Instagram followers for free.
Alternatives to Getting Instagram Followers for Free
Besides using the method mentioned in this part to get free Instagram followers, you are suggested to check this free Instagram followers app, Getins+, which provides a simple way to get free followers for Instagram organically. You'll get free Instagram followers for iOS app Getinself+ with no jailbreak, or get real active Instagram followers with Getinsita+ app on any Android device.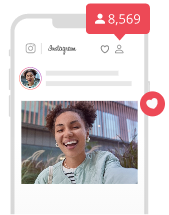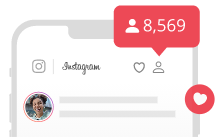 Best Free Instagram Followers & Likes App
Get real, unlimited free Instagram followers likes.
Grow daily, auto, instant Insta followers & likes.
Boost Instagram comments, Instagram reels & reels views quickly.
The Bottom Line
That's how to view Instagram without an account. The first method is, for the most part, the best one for viewing an Instagram account without logging in. In addition to viewing Instagram accounts and doing market analyses anonymously, which are all aimed at promoting Instagram accounts, growing real Instagram followers is the key. How to hack Instagram so that your following magically increases before you go. It's your time now. Try out Instagram free followers trials to increase your followers now.