After having tested hiding likes count for around 2 years, Instagram announces that this Instagram hide like feature is available to every Instagram user. Now you can decide whether to see the Instagram like count on others' posts or showcase the Instagram like count on your posts. How to hide likes on Instagram? Will the "Hide Like Count" feature impact your post performance? This article covers complete information you want to know.
Why Does Instagram Hide Likes
Back in April 2019, Instagram announced that it would test hiding Instagram like counts to find out whether this metric could depressurize people's experience on Instagram. This test was expanded to some countries, and users whose accounts in the test could only view who had liked their posts but the total number of likes they got had gone. It was the same case when they browsed others' posts.
However, the two-year test proves that removing the likes count seemingly contributes less to depressurization on Instagram for all age groups. To give people more control over their experience, Instagram finally introduces a new Instagram like option. With this new feature, likes on Instagram will still be viewable to the public by default, but people can turn off the like count for either their own or others' posts. The following shows you how to turn off likes on Instagram.
How to Hide Likes on Instagram
Instagram offers different setting options to switch on/off Instagram like count for one's account and others' posts. The following are how to hide like count on Instagram for people's accounts and your one.
How to Hide Instagram Likes on Others' Posts
Step 1. Open the Instagram app, go to your profile page, and hit the three-line icon in the upper right corner.
Step 2. Go to Settings > Privacy, and select Posts.
Step 3. Toggle on the Hide Like and View Counts option.
Now the total number of Instagram likes and video views for other people's posts are invisible to you. Instead, it will display a few usernames of accounts that have liked these posts and add "and others". E.g. Liked by cutepanda and others.
How to Hide Likes on Instagram for Your Posts
You can switch the Instagram Hide Likes option before posting your images or videos, as follows:
Step 1. After you create the post, on the page where you write the caption, tap Advanced Settings.
Step 2. Enable the option of Hide like and view counts on this post.
If you want to hide likes on Instagram for the post you have uploaded, open the post, tap the three-dot icon on the top right, and select Hide like count.
After the setting, only you can see Instagram likes for the post with an exact count.
Does Hiding Like Count Affect Engagement
Making Instagram likes hidden might be beneficial to some people, but annoying to others, as Instagram concludes from the test. For one thing, many netizens take a lot of Instagram likes an important signal of high recognition. People are more likely to trust content having more likes. Hiding Instagram likes might lead to less compelling posts. For the other thing, people, especially teens, can unwind from the competition for online Likes. No one will know about it even if you get less likes on posts.
Besides the psychological level, the other thing people may consider is whether it will have a negative impact on engagement. As well known, the latest Instagram algorithm takes likes among the crucial metrics when suggesting and ranking posts.
When you hide likes on Instagram, you're making it unseen by the public but Instagram can accurately calculate your post performance, including Instagram likes. Theoretically, it won't affect how your post ranks. However, as mentioned before, a high Instagram like count will be beneficial to high reliability, which can bring new interaction and engagement to some degree. If you have a lot of likes for your post, it's advisable to get the Instagram follower hide feature closed, to add extra attraction.
Stuck in no Instagram likes? Learn about how to gain more Instagram likes quickly!
Bonus Tip: How to Get More Instagram Likes
Instagram likes still matter for visibility and reach. If you have tested various methods yet only got a few likes on your post, here is a useful tool to help you out, Getins+. Getins+ is a quick Instagram follower and like app. It can help you grow 100, 1,000, 10k, and more likes within minutes. Its Android version is Getinsita+, and the iOS version is Getinself. Despite the different names, Getins+ provides the same high-quality services on the two systems.
Check more about its main features:
Free Instagram Likes: This tool is a coin-based application that provides services for free with coins. By doing app tasks, you can get coins to get free Instagram likes.
Real and High-quality: Getins+ guarantees top quality for its free Instagram followers and likes services. You will gain real growth for your Instagram accounts.
Safe and Private: You don't need to enter your Instagram password to use this app. This is an app to get Instagram likes without password. It only requires your public Instagram username. There is no risk to your Instagram account and personal information. It takes three steps to get Instagram likes on Getins+.
Step 1. Tap the download button below and install this tool on your mobile phone.
Step 2. Create an app account, log in to the account, and add your Instagram username.
Step 3. It will reward you with free coins for your first sign-in. You can earn more coins by doing various easy tasks. When you get enough coins, go to the Get Likes tab, select a plan, and get free Instagram likes at once!
The Bottom Line
It can be either beneficial or annoying to hide likes on Instagram. This is why Instagram gives full control of this feature to users. You can choose to turn on it or not based on your needs. If you want to hide or showcase your Instagam like count for building a better account, please note that Instagram hide likes won't affect your engagement for the most part. However, you'd better grow more Instagram likes to attract more interactions. Try Getins+ for fast growth!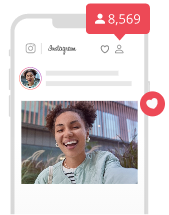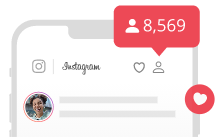 Best Free Instagram Followers & Likes App
Get real, unlimited free Instagram followers likes.
Grow daily, auto, instant Insta followers & likes.
Boost Instagram comments, Instagram reels & reels views quickly.