Instagram is an open, creative, and encompassing place for people to share their daily life and feelings. And the IG post viewers like us always show approval and resonation by liking their posts. Sometimes, you want to find out the post you liked on Instagram or you want to see what someone likes but don't know how to make it.

This article is here to help you step-by-step on how to see liked posts on Instagram as well as how to see what someone likes on Instagram. Keep reading to get a detailed tutorial.
How to See Your Liked Posts on Instagram 2023?
When talking about how to see what someone likes on Instagram, you can check your Instagram account on your mobile phone because the Instagram app supports this feature. Despite the fact that Instagram enables you to see your liked posts, you might easily overlook it due to the abundance of other features inside. The following steps will demonstrate it.
Step 1: To access your profile page, click your profile photo in the bottom right corner. Then, choose "More Options" in the top right corner.
Step 2: Complete the 3 steps in order: tap "Settings," choose "Account," and click "Posts You've Liked."
Step 3: Then, you can view the posts you liked. Click on one to replay it.
Even if it's simple to see likes on Instagram, it can only display the last 300 posts you liked. Read the following guide on how to see someone's Instagram likes in 2023 if you want to see the like history earlier
How to See Likes on Instagram 2023 Free - More Likes History?
Although Instagram claims that there isn't a way to access posts that you've liked online, we were able to find a functional solution to assist you. And now, let me walk you through the four steps necessary to view liked posts on Instagram using a PC.
Step 1. Launch Chrome to improve your Instagram layout.
Step 2. Open Chrome and sign in to Instagram. Click the extension and select "pin extension" (launch the tool).
Step 3. Once the Instagram page has updated, click the more options button on the right of your profile pictures.
Step 4. You may now see the posts you liked and the collection.
How to See What Someone Likes on Instagram 2023 Free?
Before October 2019, Instagram users could readily see what other people liked. All you have to do to follow them and then what they've lately liked on Instagram will notice you in the activities like the following page.
Later, Instagram disabled the feature and stopped displaying the activities of your followers in order to safeguard users' privacy. After then, you can only see others' recent followers. But if you only be curious about who follows them, you can enter a username in the following banner to check it.
However, if you want to find out how to see what someone likes on Instagram, check the premium way in the next part.
Also Read: 7 Free Instagram Stalker Apps to See Who Stalks Your Instagram >>
Verified Way to See Someone Likes on Instagram 2023
Getting answers on how to see what someone likes on Instagram is a good way to reveal more about the person you are concerned about. The kind of posts that your favorite actors, musicians, kids, boyfriends, and girlfriends like can reflect their interests and personalities to some extent. In order to discover how to see someone else's likes on Instagram free in 2023, you'll need the following superb tool.
You can effortlessly follow the activities of anyone you care about on Instagram with the practical internet application Snoopreport. Compared to the commonly used official tracking method, "Activity," Snoopreport has superior functionality. You don't have to track down each person's activities individually. Instead, Snooproport will create an activity report for your target person, similar to the one in the image below, where you can check their recent likes, comments, and followers. You can find additional details about the person you care about in the full report.
In addition to creating plans for individuals, Snoopreport also creates plans for businesses. This implies that you could easily track a group of Instagram users to find out what your key clients enjoyed. Additionally, Snoopreport is free for researchers and students studying data science.
How does it function?
Snoopreport forecasts user behavior and validates their behaviors using big data as well as information that is readily available to the public. Therefore, you don't have to log into your account or anyone else's for that matter in order to keep tabs on their activity.
Is it lawful?
Yes! Although Snoopreport collects publicly accessible data, it won't breach anyone's Instagram account. You can use it without concern because it guarantees that every piece of information is legal.
Additionally, you may click this to easily increase the number of likes people give your posts.
Bonus Advice: How Can You Increase Instagram Likes?
To express appreciation, people will like your posts. Along with understanding how to see liked photos on Instagram, you should also focus on receiving likes. There is an additional tip to help you. Getins+ may be your best option if you want to fast increase your Instagram followers. It is well recognized that having a lot of likes might reflect your strong Instagram impact. You can gain attention, fame, and more on Instagram with Getins+ in addition to getting free followers and Instagram likes without login. This practical tool also supports versions on Android called Getinsita+, and on iOS called Getinself+. Try them to boost your Instagram with ease.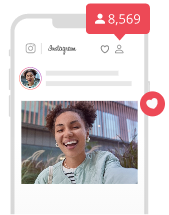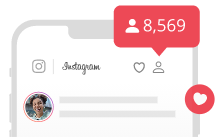 Best Free Instagram Followers & Likes App
Get real, unlimited free Instagram followers likes.
Grow daily, auto, instant Insta followers & likes.
Boost Instagram comments, Instagram reels & reels views quickly.
Why Use
Getinself+

Getinsita+

Getins+

?

There is no risk and no need for passwords. Get IG followers without logging in.

Unlimited Free: To obtain Instagram followers free trials and likes, only coins are needed.

Instant and Natural: On Instagram, verified followers and natural likes will appear right away.

Available systems include PC, Mac, iOS, and Android.

If you have a budget, you can purchase auto Instagram followers for a fair price. Your following will increase at a pace that is natural to them. If you don't have a budget, you can also get free Instagram followers either.
How to Get Likes on Instagram Using

Getinself+

Getinsita+

Getins+

?
Step 1: Download and install Getinself+Getinsita+Getins+ on your mobile device.
Step 2: Create an account and log in. Enter a username for an IG account.
Step 3: Publish your order with the allocated currencies.
The Bottom Line
You must have figured out how to see someone's Instagram likes if you've reached this point. You can discover yours from similar histories. You may also learn how to see what someone likes on Instagram 2023 by using the Instagram followers app. Along with looking at previous likes, you should focus on gaining new likes. Discovering new followers on Instagram will be made easier by learning more tricks. Finally, if you feel that the blog can be of some assistance to you, please let your friends know. Your encouragement is what drives us to continue providing you with useful advice.