When it comes to promoting your content on Instagram, the story views are one of the most important things that you can not afford to miss. Getting Instagram story views gives your account a boost that triggers the algorithm to push your content to more and more users. That is why it is quite important to have a minimum of 1000 story views on your profile.
However, the challenge is to get these story views as people often find it difficult to get Instagram story views free of cost.
What are Instagram Story Views?
The Instagram story views are nothing but the views you get on the stories you upload on Instagram. These views usually come from your followers as a person who does not follow your profile will hardly check your stories.
Thus, there's a direct connection between the story views and the followers of an account. Still, there are different ways you can try to get more Instagram story views free of cost on your profile.
What are Instagram Auto Story Views?
Instagram auto story views are the views that you get automatically from external sources. These views are delivered by other platforms automatically. This way, anyone can get auto story views without putting in much effort.
Just like Instagram story views, the Instagram auto story views also give your account a boost. When you get automatic views on your Instagram stories, the Instagram algorithms start ranking your profile in search results. This way, your complete account gets better reach and gives you more opportunities to connect with a better audience.
How to Get Instagram Story Views Free by Your Effort
The good thing is you can get Instagram story views for free by putting in some effort. These methods can be used without spending any money and still generate some great results for the users.
Here are some of the best methods to get these free Instagram views:
Post Stories at The Right Time
According to research, posting at the right time can boost your Instagram story views by 160%. Thus, you should try to understand your follower's behavior and find out when they are most likely to check your story.
Once you do this experiment for a few days, you will find out the best time to post stories on your account.
Ask Questions in Your Instagram Stories
Another great way to get more Instagram story views is to add more polls on your stories. Asking interesting questions through polls motivates users to interact with your stories.
Here comes the trick now- Once your followers start interacting with your stories, Instagram will start pushing your story polls to people who do not even follow you. All you need is to make your account public to get this free traffic.
Decide How Many Stories to Post
It's not always the best option to post more stories to get more views. Sometimes, it is better to understand how much content your followers are expecting from you. Also, most users compromise with the content quality when trying to post 2-3 stories a day.
Thus, if you want more Instagram story views, you need to provide the content that your followers expect from you. Do some research and post stories whenever you feel like your followers would want to interact with them.
How to Directly Get Instagram Story Views - But Has Limits
If you do not want to go through the time-consuming methods, there's a better solution for you. There's an amazing platform that lets you get quick Instagram views on your stories for free. The platform is Freeigstoryviews, which is offering all its visitors to get 100, 250, 500, 1000, 2000, or even 3000 story views within half an hour.
Here is a quick guide to help you out:
1. Select one of the packages that include 100, 250, 500, or 1000 story views
2. Enter the URL of the story where you need the views
3. Wait for 30 minutes and you will get all the views promised by this platform.
However, please know that you need to make your account public before asking them to send the traffic on your account.
Most people won't need any other solution after using this one. However, there are still some limitations that may annoy some of our readers. The first major problem is you can get views on only one story. Also, you can get more than 3000 story views on an account. That is why you will need a better and more reliable solution for your account.
How to Indirectly Get Instagram Story Views Free - But Works Well
Let's get to the real deal now. We all know that Instagram recommends your content to its audience when people interact with your account. For that, you need some followers who can view your Instagram stories, like your posts, and leave comments there.
That is why we found an amazing method that lets you increase your Instagram followers within a few minutes. The process includes using a free application named Getins+.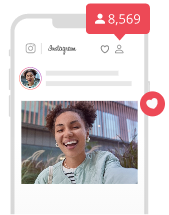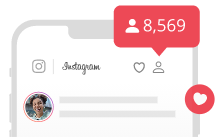 Best Free Instagram Followers & Likes App
Get real, unlimited free Instagram followers likes.
Grow daily, auto, instant Insta followers & likes.
Boost Instagram comments, Instagram reels & reels views quickly.
Getins+ is an Instagram followers app for both Android and iOS users, with an Android name Getinsita+, and iOS name Getinself+. The app is designed to help you get instant followers on your Instagram account. The best part is you won't need to provide your Instagram login credentials to use it.
Here are some features of this application to help you learn more about Getinself+Getinsita+Getins+:
The first thing is you can get free Instagram followers without spending any money on in-app purchases. The application works by exchanging some coins for followers (we will discuss this in detail later in this guide)
You will get followers who are active on this platform and interact with users. This way, your account won't be suspended by Instagram for getting followers from external sources.
Get Likes, Followers, Comments, Story Views, and Much More
The app feature is not limited to providing Instagram followers free as you can also get Instagram likes, comments, and story views from the same application. So, enjoy the real and instant traffic on your account at no extra cost.
Steps of using Getins+ to get Instagram followers and Story Views
Quick steps to get Instagram story views:
1. Download and Install Getinself+Getinsita+Getins+
2. Setup your Account
3. Get Instagram Followers
4. Increase Instagram story views free.
Step 1. Download and Install Getinself+Getinsita+Getins+
Visit the website and download the app downloader from there. Once you install the app downloader on your smartphone, it will start installing the Instagram followers app on your device. Give the required permissions and finish the installation process.
Step 2. Setup your Account
The next step is to add your account to the application by entering your username. Once the account is added, check if all your posts and reels are visible there. If you can not find your posts, check if your account is private. Make it public and you will be ready to use the app.
Step 3. Get Instagram Followers
Now you can simply get followers by uploading a task for 1000 followers on the app. It will ask you to use some coins before you publish your task. You can earn these coins by logging in every day to your account or by sharing them with your friends. There are many other ways to earn coins that you can find on this application.
Step 4. Increase Instagram story views free.
Within 30 minutes of uploading the task, you will start getting followers on your account. Now, use those followers to get more story views and get organic traffic on your account.
The Bottom Line
How to get auto views on Instagram? It is clear that you can not get story views free if you do not have enough traffic on your Instagram account. The above guide includes direct and indirect ways to get Instagram story views free of cost. By using any of the above methods, you can easily increase your story views, ultimately helping you get more traffic on your profile. Use Getinself+Getinsita+Getins+, a tried and trusted method by millions of users, to check out Instagram followers free trial and increase your account's reach now.