Stories have become an essential component of the everyday lives of the majority of Instagram users. The reason it has become so popular is that it allows us to effortlessly join the lives of people we care about in real-time. Nowadays, you may quickly capture the attention of your audience by using Instagram stories. So, if you want to stand out on Instagram, it appears that you must understand how to improve your Instagram story.
Thus, we write this blog to show you how to put multiple pictures on one Instagram story Android or iOS in 2023. There are 3 ways that suit anyone of you, users. And you can find your favorite methods to take.
Why Should You Add Multiple Pictures on One Instagram Story?
More Attractive - There is no denying that regularly posting Instagram stories is one of the nice ideas to engage followers. Learning how to add multiple photos to one Instagram story, you can make the story more interesting and can attract more free Instagram followers. As you can see, many famous people get used to putting more than one photo and video to their Instagram story too.
Less Tiring - Certainly, more material may draw greater attention in such a short period of time on Instagram stories. But how can you get your knowledge in a long tale acceptable by others? To alleviate the problem, you may combine many images on one page, resulting in fewer story pages.
Also Read: Instagram Followers Free Trial >>
How to Add Multiple Photos on Instagram Story: Built-In Tool
How to put multiple pictures on one Instagram story Android and iOS? The first easy way is to use the method of stickers. If you just want to mix up some pictures, the build-in tool can be the most suitable way to help you. Let me show you how to use it:
Step 1. Launch Instagram on your phone and click the story to create a new one.
Step 2. Select a photo you want to post as the main photo.
Step 3: Click the stickers and find the camera and photo as I circled.
If you choose the left one, camera, you can take a photo and add it to the initial photo with frames you can choose.

If you select the appropriate one, pictures, you may add a recent photo or video from your camera roll. The video, in particular, will bring your tale to life.
Tip: It allows you many flexible adjustments to what you added in size and direction by your fingers.
And once you've built an Instagram story with many photographs. You can share your multiple photo tale by clicking the share button.
Also Read: Instagram Reels Views Hack >>
How to Add Multiple Photos to One Instagram Story [Without Layout]
If you want to make it faster than Layout, you may use a third-party program. There are several programs that may assist you with learning how to add multiple photographs to one Instagram story without Layout. And there is one app for you, Mojo, that focuses on generating Instagram stories.
First: You need to install and launch Mojo on your mobile phone.
Then: Choose the suitable one that you like and can hold all your photos. As you see, there are many kinds of animated templates.
Next: After you've made your decision, you must insert your images. Mojo supports many types of white frames, which you do not have to add yourself. There are also other editing capabilities available to you.
Template

Color

Background

Music

Format

Media

Text
You may make changes to make it more interesting and appealing to you. Furthermore, click "Save" to submit this content with a single click.
In addition to changing up the images in your stories, you could use the best Instagram font changer to make it stand out. A great typeface will be quite beneficial. This method, you may simply gain more Instagram followers and fame. However, if you want to gain free Instagram followers quickly, try the best Instagram followers mod APK & App in 2023.
How to Put Multiple Pictures on Instagram Story on Android & iOS: Layout
Another method for putting numerous photos on one Instagram story on Android or iOS is to use Layout. It is a pretty handy tool for putting together some photographs. You may download the Layout app to try out all of the features, or you can utilize Instagram's built-in Layout tool, which can also fulfill your needs in certain ways. Here are the fundamental procedures for utilizing the built-in Layout.
(Layout is available for Android and iOS)
First: Launch Instagram on your mobile and create a new story.
Then: Find "LAYOUT" on the bottom of this page. As you look, there are 6 kinds of frames prepared for you.
Next: you need to finish every piece of all one by one. And you can choose to take a photo or select a photo from camera roll.
Moreover, after you have finished your multiple photos story by Layout, you can use Method 1 to add photos or videos.
How to Put Multiple Pictures on One Instagram Story Android – Built-In Function
There is another technique to add numerous photographs to one Instagram story without a layout, and it is really straightforward, requiring only one additional press than sharing your posts in the feed. Let's go through the easy three stages.

Step 1: Launch Instagram on your phone, tap your profile photo on the feed page.
Step 2: Scroll up the page and choose the "Multiple" icon.
Step 3: Choose to share in "Your Story".
You can only add up to 10 photos or videos to Instagram Story at once.
Optional Steps for Instagram
To maximize Instagram interaction, you may alter your Instagram story before posting it. Aside from Layout, there are several built-in editing options that you may use to enhance your tale.

Location tags

Product Tags

Writing Text

Other accounts

Emoji
Also Read: App to Get Instagram Followers Without Following >>
Bonus Tip: Gain Instagram Popularity Effortlessly
Do you want to grow your Instagram following? Making an excellent contribution is a great way to go. Is there any option for you to get popularity other understanding how to add numerous photographs on one Instagram story Android & iOS? Yes! Try Getins+, one of the greatest Instagram follower boosters. Getins+ works flawlessly on Android (named Getinsita+) and iOS (named Getinself+).
Getins+, gathering a lot of real and active Instagram users here to like and follow each other, allows you to get unlimited free followers instantly. With Getinself+Getinsita+Getins+, you can gain a lot of engagement on Instagram. Getinself+Getinsita+Getins+ guarantees no passwords, no verification, and no survey. Just enter an Instagram username in the following to check your current free Instagram followers and get new.
Bottom Line
As steps I recommend, it is quite easy to learn how to put multiple pictures on one Instagram story Android or iOS. You can try the 3 methods and choose your favorite way to create your Instagram story. But there is some advice you could take:
Don't add too many or little photos to one story.

Learn to adjust the sizes or direction of photos in one story.

Adding videos to one story can make it more vivid.

Pay more attention to the balance of color.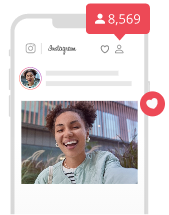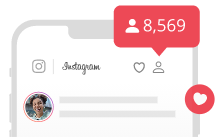 Best Free Instagram Followers & Likes App
Get real, unlimited free Instagram followers likes.
Grow daily, auto, instant Insta followers & likes.
Boost Instagram comments, Instagram reels & reels views quickly.