Without a doubt, Instagram analytics are critical for social media marketing. After all, it aids in assessing your prospects and revealing problems. One of the most important Instagram metrics is the follower count. It can frequently indicate how your followers react to your content and their level of interest in it. You must be concerned with more than just your current follower count. An Instagram follow history assists you in improving your content strategy and, as a result, increasing Instagram followers.
Based on that, the following will explain how to check Instagram follow history and how Instagram follower history reveals a new trick for gaining new IG followers. Stay tuned!
What is Instagram Follow History
Although Instagram is younger than its peers, such as Twitter and Facebook, it has a sizable market share, with billions of active users on a daily basis. It's no surprise that people nowadays are curious about everything on Instagram, including how to clear IG search history, check Instagram followers history, and so on.
And here are the 3 most concerning questions in detail.
- Instagram followers count history
how many Instagram followers did I have on a certain date? This is Instagram followers count history. It refers to statistics that show a comparison of the number of followers before and after a specific time period.
- Instagram follow request history
Instagram follow request history displays information about what and how many accounts you were once required to follow.
- Instagram followers' growth history
Instagram followers' growth history represents more detailed issues such as engagement rates for professional demands, and it can also be made in a report to encourage further analysis.
The above are basic facts about IG followers' histories, but knowing them is far from enough to reach new audiences. You must also be aware of methods for verifying it. Let's see how to do it!
How to Check Instagram Follow History
Checking your IG audience history every now and then can shed light on another way to increase followers. In light of this, understanding how to view Instagram follower history is now an absolute must.
# How to Check Instagram Followers Count History
When you type and search the keywords on Google.com, you can find free Instagram followers tools like InstaFollowers. However, the majority of them are only available on PC. The next step is to enter the username into the search box.
The before and after statistics shown below were collected with a one-month lag, just like the screenshots. People can get a clear picture of his or her Instagram follower count history based on the specific difference in the numbers presented. If you find the result not satisfying, don't miss the Instagram followers free trial at the next part.
# How to Check Instagram Follow Request History
People get different results when they look at the IG follow count history. Some of them, based on unsurprising statistics, discover that a group of potential followers may have been overlooked. As a result, it appears that checking Instagram followers on a regular basis is necessary. Here are some hands-on examples.
Step 1. Go to your Instagram account page, tap the hamburger menu icon in the top right corner, and then tap Settings.
Step 2. Navigate to Security and select Access Data from the Data and History menu.
Step 3. Next, under Connections, click the View All link for Current Follow Requests.
# How to Check Instagram Followers' Growth History
Aside from the request history, the growth of followers on Instagram is an important index for further analysis of new audiences updating. In this case, My Instagram Stats is an easy-to-use Instagram followers history tracker. It uses clear statistics and charts to track the evolution of your social media accounts. When you log in and enter your username into the search box, you will see the following information:
Track the progress of any Instagram account with daily analytics of Followers, Following, Uploads, Engagement Rate, and other metrics.
My Instagram Stats is available to everyone with daily analytics and generates accurate and free stats for any account stored in the database.
This tool has been designed for both general and professional use. More features are waiting for you to try!
How to Reach a New-High IG Followers History
Instagram follower history acts as a mirror, reflecting your followers' changes over time. The meaning and purpose of knowing history lies in challenging and rewriting it. That is, a new high history can be created based on the past, and Instagram follow history is the same. However, you may find it hard to increase Instagram followers no matter how hard you've tried. Don't worry, Getins+ is an app that can help you make your new followers history in a safe, natural, and efficient manner. It is an app designed for both iOS and Android users who want to break follower records and gain a plethora of real-life IG audiences. Aside from that, users can quickly and organically get Instagram likes on their existing posts as well.
Why Choose Getins+?
This Instagram followers app is your perfect choice to increase Instagram followers and likes for both Android and iPhone users, but with different names. The Android app is called Getinsita+, while the iOS one is named Getinself. Here are 3 of its significant features:
Forever Free
GetinselfGetinsita+Getins+ is a platform that charges nothing but your one try. It is a totally free community for people to follow and like each other. People do tasks inside to earn free coins and use their coins to get free Instagram followers/likes. Tasks are multiple and unlimited, as are the free Instagram services.
All Real & Active Users
There are no risks of gaining fake or bot followers here, only real and active Instagrammers can enter this community and become your followers. This also freed users from being warned by Instagram for all the growth is genuine and authentic.
100% Safe & Private
You need to worry nothing when using this Instagram follower boost app. On the one hand, the speed of growth is carefully designed by GetinselfGetinsita+Getins+ which will never get punished by Instagram. For the other, all the information you leave here will only be kept for you, with no viruses and no leaks.
How to Create a New Instagram Follower History Using
Getinself
Getinsita+
Getins+
The steps below will show you how to easily create a new follower history with GetinselfGetinsita+Getins+. Don't pass up this opportunity!
Step 1. Download & install GetinselfGetinsita+Getins+ on your devices and receive the free bonus coins after you log in.
Step 2. Earn free coins by doing multiple tasks including but not limited to following people, liking posts, opening the lucky box, joining the lucky draw, and receiving the daily bonus.
Step 3. Get free Instagram followers and create a new Instagram follow history with the coins!
Final Words
Bolt, a world-renowned Jamaican sprinter, has twice broken the 200-meter world record, setting 19.30 in 2008 and 19.19 in 2009. Phelps broke the 1972 record of fellow American swimmer Mark Spitz, who had seven first-place finishes in a single Olympic Games. Breaking records obviously makes both Bolt and Phelps household names. But who can say? Maybe you'll be the next household name after breaking the Instagram follow history record with GetinselfGetinsita+Getins+'s free Instagram followers growth!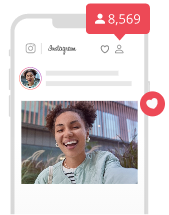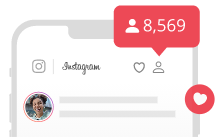 Best Free Instagram Followers & Likes App
Get real, unlimited free Instagram followers likes.
Grow daily, auto, instant Insta followers & likes.
Boost Instagram comments, Instagram reels & reels views quickly.