Instagram has continued to be one of the biggest leading social platforms for people all over the world to share life and communicate with each other. Recently, many Instagrammers posted questions about Instagram follow requests on platforms like Quora and Reddit. For example, how to send a follow request on Instagram, how to see follow requests over 1000 on Instagram, how to increase Instagram follow requests, and so on.
Don't worry, the ultimate solutions to all of your Instagram follow request questions, as well as the best answer to increase 1000 follow request on Instagram will all be given.
What is Follow Request on Instagram
According to Instagram, if your account is set to private, anyone who wants to see your photos or videos must send you an Instagram follow request.
If you are a private and popular account and don't check the follow request list frequently, you may miss many potential followers. Because generally, mobile users can see 1000 follow requests on pending while the browser will only show 200. For the amount excesses that, they have just gone.
How to Increase 1000 Follow Request on Instagram to Unlimited
There are 2 types of increasing 1000 follow requests on Instagram to unlimited, one is for Instagram private accounts, how to see more than 1000 pending follow requests on Instagram. As for the other, is the way to make more people send follow requests on Instagram to your account! Let's go through them one by one:
- How to break the 200/1000 pending Instagram follow requests limitation?
For private Instagram accounts, there are cases that the pending follow requests reached 1000 and didn't show more. Sadly, you can't see more than 1000 follow requests on Instagram until you approve or deny the requests on pending. But there are some actions to handle it:
① Accept or Deny them right now
After you find out that your follow request on Instagram is stuck at 1000, you should start to accept or deny them right now, with more seconds of hesitation, more follow quests will disappear. Except for confirming them one by one, you can make things easier by changing your private account to a public one for a while, then all requests will be accepted automatically.
② Start anew to collect Instagram follow requests
What if you accepted them all automatically and change back to a private one, and days after problems just reappear again? Here is a tool that can help you collect your Instagram follow requests from a fresh start.
Socialtools.io is an iOS app to handle follow requests on Instagram. It works similarly to the web version of Instagram which can store 200 recent follow requests on Instagram and keep storing 200 new and eventually surpass 1000 as you get more requests.
But if you try this tool, chances are you'll get a warning that your account may be at risk of getting disabled since it has to be running on the web all day long to track your requests. And starting below 200 follow requests is required in order to have an accurate count.
Do you still feel sad for the followers you lost in the first place? How to get as many new Instagram follow requests as you want at any time?
- How to get more follow requests on Instagram?
In terms of increasing follow requests on Instagram at any time, there are 3 prerequisites. First, people who send you the follow request should be real Instagrammers, bots are not going to work. Second, requests must arrive fast, or the requests may be pending again which makes the deal not cost-effective. Third, the whole process needs to be safe, organic, and private. Thus, Getins+ arrives to give assistance as a result.
Getins+ is an app that allows users to increase their Instagram following for free and quickly. You can obtain genuine, organic likes on your current content in addition to increasing followers. It works on both Android and iOS, but with different names. The Android app is called Getinsita+, the iOS one is named Getinself+. Several features can increase your following and likes immediately:
Cost Free
Instead of taking advantage of some Instagram followers free trial, the network uses a straightforward, free system in which you do tasks like following and liking other users, receiving daily bonuses, opening fortunate boxes, participating in lucky draws to win coins, and spending those coins to get likes and followers for your profile.
Real Followers & Quality Likes
All of your followers are real, active Instagram users who send you the request on Instagram voluntarily. And people will like your post only if they are truly interested in your post.
100% Safe
This Instagram followers app is completely secure. It protects your privacy concealed from others and is totally safe. All of your information is encrypted and only accessible to you.
Fast Delivery
Getinself+Getinsita+Getins+ makes sure users receive the follow requests in minutes. You don't need to wait for days or hours to get what you need. No pending requests again.
How to Increase Follow Request on Instagram
Step 1. install the app on your iPhone or Android device.
Step 2. Log in following account creation. You will then be given 1000 coins to go toward creating a task that will earn you free followers or likes.
Step 3. After starting the task of gaining free Instagram followers using coins, waiting for a rise in the number of Instagram follow requests in minutes.
Real followers on Instagram, as opposed to bot followers, have the option to unfollow you if they no longer find your account interesting. Therefore, it will need more work to maintain these followers once you have gained them via this Instagram follower boost app.
Other 3 FAQs & Fixes About Follow Request on Instagram
Except for the 2 questions about increase follow requests on Instagram, there are 3 other frequently asked questions and their according answers about Instagram follow request.
# How to send a follow request on Instagram?
When creating an Instagram account, the default setting is for it to be public. Everyone who follows you will be able to view your posts, stories, videos, and comments. However, if you set your account to private, a follower request must be sent by clicking the "Follow" button before anybody may view your photographs or videos.
# How to approve or deny a follow request on Instagram?
Follow Requests will be the first item in your Activity when someone requests to follow your private account. Tap Confirm to authorize a request. Tap Delete (iPhone) or x to reject a request (Android).
If you unintentionally reject a follow request, you won't be able to view it, but you can ask the person to follow you again.
# Why Instagram follow request disappeared?
Some users said that their unexpectively declined Instagram follow requests. It's a small accident, not an Instagram follow glitch. Instagram has implemented this restriction to cap the number of follow requests you can accept in order to reduce fake activity. limiting the number of users who can accept a request in case some users regularly switch between private and public.
Fast Fix: After some time passes with no changes to your account privacy settings, the restrictions will disappear.
Final Words
That is the entirety of what an Instagram follow request is, as well as an expansion for a new perspective. I hope your issue with your Instagram follow request disappearing is resolved or that you succeed in seeking more follow request on Instagram. The practical and simple Instagram followers free growth hack is to use the Getinself+Getinsita+Getins+ app to increase your following. Test it out.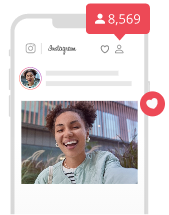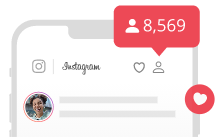 Best Free Instagram Followers & Likes App
Get real, unlimited free Instagram followers likes.
Grow daily, auto, instant Insta followers & likes.
Boost Instagram comments, Instagram reels & reels views quickly.