Regular users of Instagram may have noticed that the copy pop-up won't appear on your phone after the long press. Why can't you copy Instagram comments? As Instagram's popularity has grown, so has the practice of copy-pasting spam on the platform. This is why the company prevents comment copying. What if you just want to reuse a funny comment or export comments from posts for an Instagram giveaway? Is there any convenient solution to the long-standing question of how to copy Instagram comments?
Luckily, you find this guide in which 5 feasible ways to solve Instagram comment copying problems are included. No matter whether you want to export Instagram comments for giveaway or copy and reuse a single one, whether you are holding a phone or computer, this article gets you all covered!
1 - How to Copy Instagram Comments & Export Instagram Comments to Sheets
Instagram giveaway is an effective way to build followings and increase engagement. When you need to export Instagram comments to a sheet for giveaway activity or analysis, here's the way. Exportgram.net is the best of all the comment collection platforms tested. It provides a free trial of up to 200 Instagram comments copy and export. Let's look at how to use it to copy and export Instagram comments.

Step 1. Navigate to the Instagram post for which you want to copy the comments.
Step 2. Tap the three-dot menu from the targeted post and select "Copy Link".
Step 3. Go to exportgram.net and paste the Instagram link into the required area of the web, then click the Continue button.
Step 4. Select the time range and available formats. Click "EXPORT" to get your file, and tap "Download Excel File" to export Instagram comments for a giveaway.
Is exporting Instagram comments sufficient for a successful Instagram giveaway? No, the most important aspect of a viral Instagram giveaway is the number of participants. Your Instagram giveaway only works if your follower base is large enough to reach your goal of attracting more followers or whatever else.
How to get more participants for your IG giveaway? Here's the way. GetIns+ is a great tool to increase Instagram followers to get a lot of positive feedback (comments) on Instagram. It creates a platform for a large number of Instagram users to follow and like each other. Thus, Getinself+Getinsita+Getins+ allows you to obtain more comments on Instagram easily. Besides, it works on both Android and iPhone, but with different names. The Android app is called Getinsita+, and the iOS system is named Getinself+.
The following are some of the reasons why you should use
Getinself+
Getinsita+
Getins+
:
- All Real Followers: Only real Instagrammers are allowed to join this community. Getinself+Getinsita+Getins+ does not allow bots to ensure genuine interactions with others.
- Organic & Instant: Getinself+Getinsita+Getins+ will organically send you real people's attention within 24 hours. Never too late for your Instagram campaign.
- Safe & Private: Getinself+Getinsita+Getins+ will not require your passwords and will not require any survey or verification.
- Forever Free: It is not only an Instagram followers free trial but real unlimited free. Only coins are required to gain followers and likes. Tasks can be completed to earn coins. No money is required.
2 - How to Copy Instagram Comments Free Online on Both Android & iPhone
In some cases, people just saw some nice comments and want to reuse them. So, the first method for exporting Instagram comments is not suitable. Don't worry, except for the exporting tool and Instagram followers app mentioned above, here's a way to get a single or several Instagram comments copy. The following are the steps to copy Instagram comments on iPhone and the Android version will not be illustrated since the steps for Android and iPhone are pretty much the same.
Step 1. Navigate to the Instagram post and tap the three-dot menu upper right and select "Copy Link".
Step 2. Paste the link on any browser you have on your phone and open it to the web version of this Instagram post.
Step 3. On the top left, select "AA." Then, tap "Website Settings" > "Request Desktop Website" > "Done".
Step 4. To convert the page to a desktop web, click "Request Desktop Website." You can then copy any Instagram comments.
For iPhone users, you may encounter an incomplete display, preventing you from copying the comments. You simply need to change the page size or display it in portrait mode.
3 - How to Download Instagram Comments Free APK for Android
There is a nice app to copy Instagram comments worth trying for Android users. Let's take a look at how to copy Instagram comments with it.
Step 1. Install Universal Copy on your phone after downloading it from Google Play.
Step 2. Allow Universal Copy to run.
Step 3. Navigate to the desired Instagram comments page.
Step 4. Drag the notification bar to the right and select the Universal Copy notification.
Step 5. Make a copy of the comments you want to copy.
You can use Universal Copy to copy any words on Instagram, including the bio, caption, and link. It also works on other pages besides Instagram.
You May Like: 5 Best Private Instagram Viewer Apps: Unlock Instagram Private Accounts/Stories Free >>
4 - Instagram Comment Copy Free with a Google Extension
Aside from the tools mentioned above, there is one more tool to copy Instagram comments you can try on your PC. How to copy Instagram comments with this Chrome extension?
Step 1: Install Scraper and pin it to your Chrome extension list.
Step 2: Navigate to an Instagram comment page and click the plus button to display all of the comments you want to copy.
Step 3: Select the entire content of a single comment. Right-click and choose "Scrape similar."
Step 4: By default, all displayed comments are collected. Simply select "Copy to clipboard" and copy it.
According to Instagram rules, clicking the plus sign to load more comments will only show you 12 more comments. As a result, this extension only works for copying single or multiple comments.
5 - Instagram Comment Copy Professional for Business
Iconosquare is a professional platform that can help you copy and collect real-time Instagram comments for business purposes. Iconosaquare is intended to copy real-time data from your targeted Instagram or Facebook comments, likes, and shares. Every 5-10 minutes, the collected database will be updated.
However, Iconosaquare does not provide the service for personal accounts. Before copying comments from Instagram, it requires your company information. After entering this information, you can begin your 14-day free trial.
You May Like: Best 7 Instagram Followers Boost App: Get Free Unlimited Followers >>
Final Words
After reading this, you should have a good understanding of the 5 methods on how to copy Instagram comments listed above. All of them work and are useful when you need to copy and reuse an Instagram comment or export Instagram comments for a giveaway. Don't forget to spice things up with the free Instagram followers offered by Getinself+Getinsita+Getins+. Just give it a shot!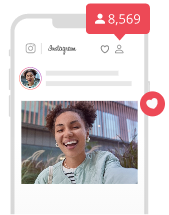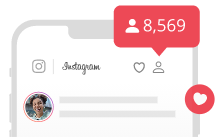 Best Free Instagram Followers & Likes App
Get real, unlimited free Instagram followers likes.
Grow daily, auto, instant Insta followers & likes.
Boost Instagram comments, Instagram reels & reels views quickly.