There is always a good reason for people to download Instagram live videos. And the most common case is to view the video offline. Imagine that when you're dealing with other things during the live broadcast of your favorite influencer, what will you do for viewing the complete stream? Undoubtedly, the most convenient way is to download it to your local drive for later viewing.
In fact, Instagram gives an easy download option for one's own live videos. But there is no direct download or save button to download videos from others' pages. You have to avail of a third-party Instagram live video downloader to get the download task finished.
This post has selected the most efficient methods of downloading real-time and finished live videos, helping you view any live videos at any time. See the details.
Save & Download Instagram Live Videos on Your Account
If you have started a live video on Instagram, once it is finished, you will be given a Download Video button. You only need to tap it for Instagram live video download. Since the download option is only available on the end screen, make sure that you download the video right away once you end it.
Alternatively, you can share the video replay to your Instagram Stories as a story video within the next 24 hours, and download it when you're free. The way to download Instagram live videos from Instagram Stories is different from the one you save a regular Instagram story video. You can either use a dedicated downloader or adopt a screen recorder to save it.
Fast Trick to be Visible to More Viewers on Your Instagram Live Video!
When you run a live video for increasing your brand's visibility and sales, more new audiences flooding into your vide will drive a higher conversion. How to get more views on live videos? More Instagram followers will be a good boost. Instagram will display profiles on a live broadcast on their followers' feeds. The more followers you get, the more viewers you will greet.
Getins+ is an instant Instagram growth tool for users to get free Instagram followers quicker. Get the tool and embrace more views and engagement. With support for mobile systems, this Instagram followers app is named Getinsita+ on Android and Getinself on iOS.
Download Instagram Live Videos on Others' Accounts in Real Time
Instagram live recording is the most popular way to download someone's live videos when it streams. Mobile users will find that it is easy and simple enough to deal with the download tasks, thanks to the built-in screen recording feature on phones. Third-party screen recorders are also available on Google Play and App Store. You can make use of such a tool to download Instagram videos on iPhone or Android and apply more advanced options.
For people who want to record others' Instagram live videos from the web browser on PCs, however, a good third-party screen recorder will be more practicable than one out of the box. Because the default screen recorder on Windows 10 and Windows 11 is frequently reported to be crashed when recording screens and the older Windows versions don't give native support for screen capture. iTop Screen Recorder is a functional Instagram live video downloader and recorder for PC. It offers a ready and free way to record any activities on the screen at the original video quality. Let's see how to save Instagram live videos using this program.
Step 1. Download the lightweight screen recorder: https://recorder.itopvpn.com/
Step 2. Go to instagram.com, sign in, and click on the Instagram live video you want to keep on your local drive.
Step 3. Launch iTop Screen Recorder, set the screen option, enable the Speaker option, and click on REC.
Step 4. It will start the recording after three seconds.
Step 5. Click the Record icon on the toolbar when the live video finishes.
You can find the Instagram live video on My Creation from iTop Screen Recorder.
Make sure that you begin to record the live video at the very beginning so as to save the complete video. If you have missed someone's Instagram live video and the person happened to save the video on Stories, you can download it with a live story video downloader. In the following part, you will know about how to get the process done.
Download Instagram Live Videos on Instagram Stories
When one saves the live video to Instagram Stories when it ends, the video will be visible in the next 24 hours and the person's profile will be circled in color. Tap the profile, and you will see the live video directly. How to download Instagram live videos saved as stories?
As mentioned earlier, you can use a screen recorder or Instagram live video downloader to do the trick. Since the last part has discussed the download process with the help of a recorder, now it's time to go into the other method, an Instagram live video downloader.
A wide selection of downloaders for Instagram live stories download can be found on the Internet, but only a few tools can save live content on Instagram Stories. One of the useful choices is StorySave. StorySave is an Instagram live video download Apk that supports Instagram stories and live streams without a hitch. Let's refer to the instruction to save Instagram live videos on Android phones.
Step 1. Download and install StorySave. This app is available on Uptodown, with over 55k downloads.
Step 2. After you get StorySave installed, open the app, and sign in to your Instagram account.
Step 3. Head to the Stories tab and all Instagram stories ready for downloading will be listed on the Stories screen.
Step 4. Tap the video you want to download and the download initiates.
Also Read: How to Get Instagram Story Views Free >>
1. You need to follow the person to download the Instagram live story video. StorySave only displays the live streams and Instagram stories from the profiles the user has followed.
2. There is no such efficient app for iPhone users to download others' live videos. Currently, screen recording is the most workable solution.
3. To download Instagram live story videos on a browser, you can ask for help from StoriesHub. Stories App for Instagram on the Chrome Web Store. This extension enables users to download and record live videos with a single click away!
The Bottom Line
Downloading live streams online isn't an easy save-as process because of the streaming protocols. A screen recorder is always the most foolproof solution for you to download Instagram live videos. Meanwhile, some Instagram live video downloaders are capable to save Instagram live videos as stories, though there are still hit-and-miss. All the tricks and tools in this article are proven to help save high-quality live streams on Instagram. You can start your download process with any of these methods.
Extra Tip: Get more free Instagram followers and make the most popular Instagram live videos. Getins+ helps you increase thousands of viewers in seconds! Beyond that, you can increase Instagram Reels views, profile views, and story views with it.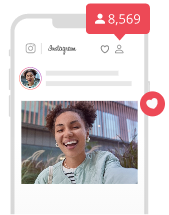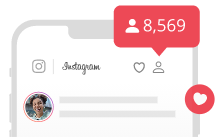 Best Free Instagram Followers & Likes App
Get real, unlimited free Instagram followers likes.
Grow daily, auto, instant Insta followers & likes.
Boost Instagram comments, Instagram reels & reels views quickly.