The rich availability of Instagram video features drives various video uploads on the platforms. When you browse some interesting video clips, you may want to save them to your iPhone for offline viewing or sharing. Since Instagram doesn't provide a download option on either its website or app, you can only download Instagram videos iPhone with the aid of a third-party tool.
Lots of video download applications support Instagram. This article picks out 6 different Instagram video downloaders for iPhone. All the options are easy to use and enable you to save videos fast and at high quality. Additionally, it will show you how to download Instagram videos on iPhone using each of these tools. Scroll down for details.
How to Download Instagram Videos on iPhone Online
If you occasionally need to save Instagram video to iphone, you can use an Instagram video downloader iPhone online tool to carry out the process. The biggest benefit of a web downloader is that you can download videos without installation. Instead, you need to submit the video URL so that such an online downloader can scrape the right video information and save the video for you.
iGram is a popular website for people to download Instagram video iPhone. On this site, you can save Instagram post videos, Reels, and IGTV videos in MP4. The process is fairly simple:
Step 1. Open the Instagram video you want to download and copy the video link. Make sure that the video is public.
Step 2. Go to igram.io on safari or other browsers you're using on iPhone, and paste the video URL.
Step 3. Tap the Download button. It will take several seconds to process the video data.
Step 4. Tap Download .mp4 to save the video to iPhone.
Bonus: Instagram Reels and other video features contribute to the increasing demand for Instagram video downloads. Likewise, Instagram is transforming into a brand-driven platform where people try their best to gain popularity and recognition. Massive Instagram followers are essential to success on Instagram. How to grow free Instagram followers on Instagram? You can also make use of an easy tool. Here comes the best Instagram followers app:
How to Download Instagram Videos iPhone with App
After the online solution to download Instagram videos iPhone, you can try an Instagram video downloader iPhone app, as well. A mobile application comes with more advanced features and fast performance. It becomes easier to grab videos and export them in desired settings. Reposter for Instagram, also namely Regrammer, is such a good option on the App Store. This iOS app supports posts, Stories, Reels, IGTV, and any other media on Instagram. Let's check out how to save Instagram videos to your iPhone.
Step 1. Find the video URL on Instagram and copy it.
Step 2. Launch Reposter for Instagram, and paste the video URL into the app.
Step 3. Tap Preview and you can preview the video on the App.
Step 4. Move to the Blue Repost icon below the video, tap it, and select More.
Step 5. You should see the Save Video button. Tap it to save the videos.
Also read: Top Instagram Followers Apps in 2023 >>
How to Download Instagram Videos iPhone with Shortcuts
iPhone Shortcuts offers an easier and quicker way to carry out tasks on iOS. A Shortcuts app for Instagram video download will help you avoid unnecessary intermediate procedures and save videos more conveniently. What Shortcuts app should I choose for Instagram video download? It is highly recommended that you use Instagram Media Saver. This is a well-claimed application to save Instagram videos, Stories, Reels, and photos. Check out the how-to guide:
Step 1. Ensure that you have installed Shorcuts on your phone. Shortcuts is preloaded on iOS 13 and later iOS systems.
Step 2. Go to routinehub.co to download Instagram Media Saver and install this app shortcut.
Step 3. Run the shortcut. For the first running of it, you will be asked to choose a storage location for media files and do other settings.
Step 4. Go to the Instagram app and find the video post you want to save. Tap the three-dot icon, go to Share to…, and select Instagram Media Server.
Step 5. Download the video to your designated location.
Instagram Media Server supports URL downloads since version 1.55.
How to Download Private Instagram Videos iPhone
Most Instagram video downloaders for iPhone require the profile to be public to proceed with the download process. If you need to save videos from a private account, you need a private video downloader at hand. Here is the selected tool to download private Instagram videos on iPhone, IGDownloader.
Step 1. Visit igdownloader.com and go to the Private Downloader page.
Step 2. Copy and paste the video post URL of the private profile into the website.
Step 3. The page source URL to this video will display below. Tap Copy.
Step 4. Open the URL on a PC browser and copy all the source code on that page.
Step 5. Go back to your iPhone, paste the source code text into the textbox, and tap Download.
Step 6. You will see a download link soon.
How to Download Any Instagram Videos iPhone (Reels, Live Videos, etc.)
An Instagram video downloader for iPhone only supports certain types of videos. To save all Reels, Live, Stories, and post videos you meet on Instagram, you will need to use different tools. Fortunately, the iPhone screen recording feature can help you facilitate the "download Instagram videos iPhone" process further. With the screen recording feature, you can capture any media file and save it as video, including live streams.
It requires only a few clicks to download Instagram features iPhone via recording. Follow the steps:
Step 1. On your iPhone, head to Settings, Control Center, and select Screen Recording to add the Screen Recording tool.
Step 2. Open Control Center and tap the gray Record button.
Step 3. The recording process will begin after a three-second countdown.
Step 5: Go to the Instagram app and play the video you want to keep. When the recording finishes, tap the Record button again to end the process.
How to Save Instagram Videos to Camera Roll
With most Instagram video downloader iPhone tools above, you can directly download IG videos to the iPhone Photo folder and access the downloads in Camera Roll. However, there are still some tools that save downloads online in other dictionaries by default. To open these files in Camera Roll, you need to move them manually to the Photo folder.
Take the Files app on iPhone as an example, the following shows you how to transfer files from it to the Photo app.
Step 1. Open the Files app, and select the videos or photos you want to see in Camera Roll.
Step 2. Hit the three dots icon on the upper right corner, and select Save Image.
Step 3. Now you should access the files via the Photo app and watch them in Camera Roll.
You may also want to know the best iPhone Apps for Instagram Followers >>
The Bottom Line
This article has walked you through how to download Instagram videos on iPhone. You can pick from the 6 Instagram methods of "Download Instagram videos iPhone" to save Instagram Reels, Stories, Highlights, IGTV videos, and other Instagram videos. These methods are free and efficient.
Additional Trick for Instagram Users: Want to make your videos go as viral as these videos you download on Instagram? You need a large foundation of audiences. Getins+, the quickest app to grow Instagram followers, will help you get more attention quickly. Get this app now and try Instagram free followers trials: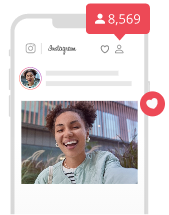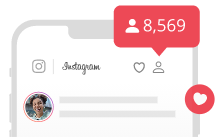 Best Free Instagram Followers & Likes App
Get real, unlimited free Instagram followers likes.
Grow daily, auto, instant Insta followers & likes.
Boost Instagram comments, Instagram reels & reels views quickly.