The original meaning of an Instagram follow train is a group of Instagram users coming together to follow each other for increasing the followers count. How many members a group has defies how many followers you can get, therefore, the bigger the group is, the better. While this kind of method is limited to hundreds of Instagram users and the inspection from the platform always influences the account's activity like the Instagram glitch, shadowban, etc. happen from time to time. In that case, new versions of Instagram follow train come into being to solve the scale and the safety issues.
This blog would show you the 4 most well-known Instagram follow trains that have provided millions of users with free followers and likes. A comparison will be made among them, making it easier for you to choose. Ladies and gentlemen, it's time to board these trains now!
No.1 Socialfollow – Instagram Follow Train that Offers 10 Free Followers
Socialfollow appears here as the first follow train for its reputation and fame. This platform is online and provides you with 10 free Instagram followers service. No need to join any group or hashtag event, just get free followers easily. But does Socialfollow really deserves so much appreciation? Let's see how this follow train works:

As soon as you enter this website, you can see the Get Free Followers part. Tap it and a new page would ask you to enter an Instagram username and email for getting 10 free followers. Then the site would fetch your account's data and send you 10 followers for free. Isn't it sound great? While some users have reposted, this free service doesn't work for them. Load failed is what they only can get after tapping the red Continue button.
No.2 Mr. Insta – Free Instagram Followers & Likes
Mr. Insta has an online Instagram follow train offering free Instagram followers and likes. You need to register an account to use this tool. Filling in information like Instagram username, email, full name, etc. is necessary. If you want to get Instagram followers without login, Mr. Insta might not be the right choice. While many users have reported that this train also has Instagram data fetch issues. It will notify users of "Invalid Instagram Username." even though you have entered your valid username.

To register a Mr. Insta account, your account needs a profile picture and a minimum of 5 posts.
More information about its free Instagram follow train services can be seen from the screenshot below:
Features can also be summarized as below:
100 coins for every new user

900 coins balance

High-quality followers, views, likes & comments

No password required
No.3 Getins+ - Instagram Follow Train with the Best Free Followers & Likes Service
No online website, no load or fetch issues…This platform has apps for you to getting free Instagram followers on your smartphone. Stability and get followers at any time or anywhere you want are the 2 prominent things this app can offer to you. Check some features of this app for you: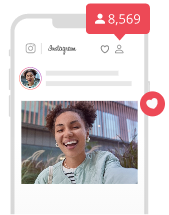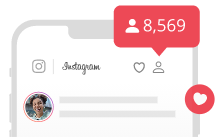 Best Free Instagram Followers & Likes App
Get real, unlimited free Instagram followers likes.
Grow daily, auto, instant Insta followers & likes.
Boost Instagram comments, Instagram reels & reels views quickly.
Free Instagram Followers & Likes
Getins+, as one of the best Instagram follow trains, has 50 to 2000 free followers plans and 50 to 1000 free likes plan for you. Yes! They are all free to get by using coins given or earned by yourself. This follow train would award you 100 coins for following another account. With all the coins you have, getting 1k free Instagram followers in 5 minutes in this app is effortless.
In addition, as a new version of follow train, Getins+ makes it unnecessary to follow so many accounts that you dislike in exchange for the same number of followers. You can just join events like the lucky box, lucky draw, etc. to win up to 69,000 coins in this app. No following but getting as many followers as you want.
Real Follow Trian without Bot Accounts
Passengers on this train are all real and active Instagram users. They would become your followers in an organic way to ensure authenticity and safety.
Delivery that Put Your Account's Safety at First
A surge of followers count on Instagram would catch the attention of this platform and lead to verification or even less distribution. Delivering followers to your account at a reasonable speed is what this app always focuses on. Getins+ stimulates the organic way people follow on Instagram to deliver followers. No glitch, shadowban, or verification would happen.
More about Getins+
One more thing to tell you, Getins+ has 2 versions, one is called InstaBox+ for iOS, and another is called Getinsita+ for Android. Steps to use this app are also prepared for you:
Step 1. Download Getins+ for your Android or iOS devices.
Step 2. Open it and sign up. Coins will be sent to you right away.
Step 3. Use coins for 50 to 2000 free Instagram followers.
No.5 TopFollow App – Free Followers and Likes Instagram
TopFollow is also a famous free Instagram follow train offering countless followers and likes to users around the world. It also operates a coins-followers/likes system, you will need to follow accounts, like posts, etc. for earning enough coins. This app unlike Getins+ or InsBottle does not have any events for coins, which means you can only get coins by following or tapping the heart button. There is a Pause button on its Tasks tab, please notice that this button means the app will do the tasks for you automatically, which would affect your account because Instagram disallows this kind of automation and once it detects this kind of action of an account, it will require the owner to verify its authenticity. During the verification, the account will be temporally banned. So, this should be kept in mind.

The Bottom Line
4 best Instagram follow trains have been shown to you above. Socialfollow, Mr. Insta, Getins+, and TopFollow all are big names in the Instagram services' area. Among them, Getins+ is worthwhile to be mentioned here again for its outstanding product quality as well as convenience bringing to users. Choose this app and you will never regret it. Free download this app now!