On the road to growing your Instagram account, you will need to get a lot of followers, views, and likes. Instagram views are one of the most important aspects of any account and they play a huge role in making an Instagram profile popular. This is the reason why people are looking for ways to increase their Instagram views. Instagram views bot services have gained quite a lot of popularity in recent years. Those tools help increase the number of views on Instagram videos, shorts, and reels.
This article will discuss Instagram views bots, including how they work, what are the best services, and if they are the best way to increase your Instagram views. So, keep reading on.
What is an Instagram Views Bot
Instagram views bot is an automated service that Instagram users utilize to increase views on their posts and reels. Automation means that those bots work automatically and they don't need any assistance in the process. All you have to do is use an Instagram views bot, set the initial settings and command it to start working on your account. After that, these bots start using different strategies to increase views for your account.
Typically, these bots visit, like, and comment on other people's posts, which will urge them to visit your account too. This way, your views will increase. The benefits of these Instagram views bot services include convenience, increased views, and time-saving processes.
3 Popular Instagram Views Bots
Now that you get what an Instagram views bot is, it's time to have a look at the three most popular examples to grow Instagram auto views. So, here you go.
KENJI
Kenji is one of the most popular Instagram views bot providers helping a lot of Instagram users get views for their accounts.
Key features
Setting up a bot account on KENJI is very easy and it only takes a minute.

It is charged by artificial intelligence and works automatically.

You will have a hands-free experience to get 15 Instagram views bot.

Efficient targeting and growth tools for the best results.
How it works
Here is how KENJI works to boost Instagram views for your account.
Step 1. Visit the official KENJI website and sign up. You will have to provide your account information for that.
Step 2. After that, you will be asked to provide relevant information about your account such as hashtags and targeted accounts.
Step 3. KENJI offers 2 different pricing plans i.e. Simple and Pro priced at $49 and $79 per month.
Step 4. After setting it all up, just start the process and leave all the rest to KENJI.
Pros:
Cons:
Very costly pricing plans.

Uses your Instagram account information
Hyper IBF
Hyper is another platform that provides auto-like and view services for your Instagram account. Beyond that, Hyper provides auto-follow, auto-unfollow, auto-DM, and more related services.
Key features
Fast Instagram views growth

Impressive safety and security protocols

Easy and quick set-up

Smart targeting based on hashtags and locations
How it works
Step 1. Visit the Hyper website, sign up, and log in.
Step 2. Choose one of the four pricing plans i.e. Mini at €11.99, Midi at €29.99, Maxi at €59.99, and Agency at €119.00.
Step 3. After paying for a plan, set up the bot and it will automatically start increasing your Instagram views
Pros:
Cons:
Growth Beast
The growth beast works in the same way as KENJI as it also utilizes artificial intelligence for automated functioning. This Instagram growth platform offers many features that you will like.
Key features
Auto-follow other Instagram accounts

Auto comment on posts

Auto like others' posts

Quick set-up and easy-to-understand operations

Chrome browser extension
How it works
Step 1. Visit the official website of the Growth Beast Instagram views bot.
Step 2. Choose one of the two pricing plans i.e. Monthly priced at £5 and Annual priced at £50.
Step 3. Set the parameters according to your preference and command the bot to start working.
Pros:
Less costly than other services

Three-day free trial

Efficient growth performance
Cons:
Limited free trial with limited actions per day

No Instagram views bot free after the trial
Is Instagram Views Bot a Good Practice to Boost Your Account?
Considering the overall pros, cons, and risks attached to the usage of these services, you can find that this type of Instagram growth tool is not always a good solution. Here are the main reasons.
1. Potential Security Threats
Most examples of Instagram bot platforms utilize ways and protocols that look quite suspicious. They ask for your account information which is not a safe execution strategy. So, for most such services, the answer to using them is a straight no.
2. Fake or Bot Instagram Account
Some bots are automated and generated using codes and other languages. They cannot be trusted. Mostly, they provide fake or bot Instagram accounts. This harms the authenticity of your Instagram account and may put your account at risk.
3. Trigger for Instagram Shadowban
Shadowban is a term that explains a condition in which you are no longer able to receive likes or views from your own followers. This may happen due to the unusual activities that bot services perform on your account.
4. Expensive Service
Although most of them use fake or bot Instagram accounts, some may even get you real engagement from real Instagram users. The problem is that you have to pay a lot of money every month.
Instagram Views Bot Alternative: Grow Real IG Views for Free
Due to the risks of bots, it is advised that you use an alternate way to boost your Instagram account. Getins+ is the best Instagram growth tool that helps you get unlimited views, likes, and followers for free. It works more than a simple Instagram views bot platform. It focuses on providing you with organic engagement from real Instagram users as an Instagram followers app. This tool is providing services on its apps, namely Getinsita+ for Android and Getinself for iOS.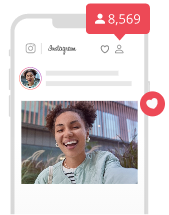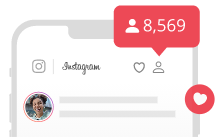 Best Free Instagram Followers & Likes App
Get real, unlimited free Instagram followers likes.
Grow daily, auto, instant Insta followers & likes.
Boost Instagram comments, Instagram reels & reels views quickly.
Here are the features that the app offers.
Real Instagram views and followers. Getins+, unlike Instagram views bots, focuses on providing you with free Instagram followers directly. This app has millions of Instagram users from all over the world. These users help each other grow on Instagram. So, it is guaranteed that you will get only real people as your followers and they will view your posts and reels.

100% free Instagram services. The app offers everything for free including Instagram views. It utilizes a coin system that works by providing you with coins upon completing specific yet easy tasks. You can earn unlimited coins and get unlimited Instagram views for free using these coins.

Overall Instagram growth. You can grow Instagram Reels views, Stories views, post views, and any other content. The services of the app are not only limited to Instagram views. It extends to providing everything that you need to grow your Instagram account. Whether it is about likes, comments, views, and followers, Getins+ offers everything for free.

No risk to personal data. The app doesn't ask you for your private information like your Instagram account passwords. So, there is no risk to your Instagram account when you use Getins+.

Also Read, 4 Free Instagram Auto Liker without Login >>

Super-fast delivery speed. The app guarantees the fastest delivery of your order. As soon as you place your order for views or followers, you will start getting them in your account instantly.
Here is how to use Getins+ to get free Instagram followers and views.
Step 1. Download the app
Tap on the button below to download the app on your phone. Install and launch this app.
Step 2. Add Instagram account
You can add up to 5 Instagram accounts to this app. All you need to do is enter the username. No password for your Instagram account is required.
Step 3. Get free Instagram views and followers
Complete missions like signing up every day, following others, sharing this app, and opening lucky boxes to earn coins. Exchange these coins to get followers from the store in the app and proceed. You should get a quick growth of Instagram profile views after it.
The Bottom Line
So, Instagram views bot services are popular nowadays because they help you get more engagement for your Instagram account. After detailed analysis, it is proved that they might be harmful to your account and cost a lot more. That is why you'd better look for an alternative with real accounts involved only. Getins+ is an app that provides you with guaranteed real followers and views for free. You can try it out.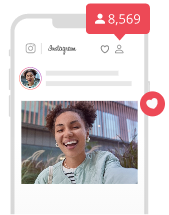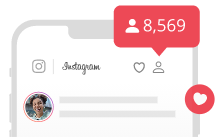 Best Free Instagram Followers & Likes App
Get real, unlimited free Instagram followers likes.
Grow daily, auto, instant Insta followers & likes.
Boost Instagram comments, Instagram reels & reels views quickly.