In Finland, 93% of users access Instagram by using a mobile instead of a desktop. Statistics in other areas are not revealed though; we can still easily speculate that mobile app has dominated access to Instagram.
Instagram's mobile app is updated on a regular basis in order to better serve users. The Instagram app is currently the third most downloaded program in the App Store, thanks to the efforts of the world's best software developers. However, frequent upgrades may cause significant discomfort to users: while iOS and Android continue to fulfill their usage interference, users are frequently confused about how to update the Instagram app.
This article is going to show you how to get the new Instagram update on different devices. Whether you are using iOS or Android mobile, you will find one solution here if you have a problem with that.
How to Update Instagram on iOS Manually
Step 1: Make sure you have switched off the automatic update. [Setting - App Store - App Updates, and turn off the button]
Step 2: Open the App Store and tap on your Apple account icon in the upper-right corner.
Step 3: Tap on "Purchased" to find the Instagram app and check the status. If there is a new version, tap on "Update" to update the Instagram app manually.
For more tricks on iOS 14, please see: Get Instagram Likes Without Password
How to Update Instagram on iOS Automatically [Strongly Recommended]
Step 1: If you have closed the automatic update, please open it—[Setting - App Store - App Updates, and turn on the button]. Freely choose to turn on or off Cellular Data Automatic Download.
Step 2: If you choose to turn off Cellular Data Automatic Download, your mobile apps, including Instagram will be automatically updated under the WIFI circumstances.
It is strongly recommended to open automatic updates on iOS to check app status in App Store frequently.
For the more iOS latest information, please see: Free Instagram Likes Trials.
How to Update Instagram on Android Manually
Step 1: Open Google Play on your Android mobile.
Step 2: Tap on the upper-left icon with three parallel lines for more options. From the drop-down menu, select "My apps & games."
Step 3: Find the Instagram app from "Updates pending". If there is a new version available, it will be marked as "Update". Tap on it to update Instagram on Android.
If you're also interested in more Instagram tools on Android, please see: App to Get Instagram Followers Without Following
How to Update Instagram on Android Automatically [Recommended]
To see how to update Instagram on Android automatically, all you need to do is switch on the app automatic updates as same as on iOS.
Step 1: To access more choices, open Google Play on your Android device and touch on the upper-left symbol with three parallel lines. Select "Setting" from the drop-down menu.
Step 2: From there to select "Auto-updates apps". Choose the first option (over any network) or the second one (over WI-FI only). Do not choose the third one (Don't auto-update apps). Tap on DONE to successfully switched on the automatic update on Android. Your Instagram app will always keep up with the latest version.
Reasons You Should Update Instagram Occasionally
Instagram has grown from a new-established startup to a social media tycoon in just ten years. With each Instagram update, they continue to improve the user experience by adding new features. We had Stories, Live videos, and IGTV just a few years ago. A single-version upgrade can sometimes result in a significant gap. Make sure your Instagram app on mobile is up to date if you don't want to fall behind.
While you're reading this, the Instagram engineering team is still working on problem fixes, like they usually do. Countless issues are fixed in each new Instagram edition. Although Instagram is perhaps the most widely used program on the planet, you never know when and where you could run into an issue. More importantly, certain issues threaten the security of your account. The only answer is to keep up with the times.
One Bonus for You: 25 Million Instagrammers' Choice
Having got how to use the new Instagram update, why don't you consider making your Instagram account more attractive? With one of the most famous Instagram tools - Getinself+Getinsita+Getins+, you can easily achieve your dream of being the next Instagram celebrity.
Getinself+Getinsita+Getins+ is an Instagram followers increaser. It serves Instagramers who are eager to increase real and organic followers instantly. By using it, to get at most 1K Instagram followers in 5 minutes is one small case. Moreover, any Getinself+Getinsita+Getins+ users can collect Getinself+Getinsita+Getins+ coins by doing easy tasks to exchange for followers. That means you don't need to pay one penny and get unlimited free Instagram followers from this app. With more and more people following, your chance to be promoted by the Instagram algorithm will be massively boosted.
Conclusion
How to get the new Instagram update always confuses people due to consistent updates of both the Instagram app and mobile system. For users' convenience and safety, you're strongly suggested to open automatic updates to keep your apps up-to-date. But if you prefer to update apps on your own, make sure you grasp how to update Instagram manually. It may take more time, while you are supposed to be the one that controls your mobile.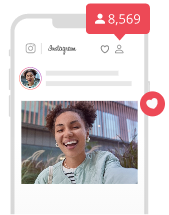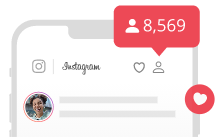 Best Free Instagram Followers & Likes App
Get real, unlimited free Instagram followers likes.
Grow daily, auto, instant Insta followers & likes.
Boost Instagram comments, Instagram reels & reels views quickly.