Everyone gets a reason to see someone's recent following on Instagram, but because of Instagram's frequent updates, the Instagram following order is a bit different from the one before. How to see who someone recently followed on Instagram? Here will demonstrate the newest process of checking the most recent following of certain people you're interested in.
Beyond that, you will find out how to see who you recently followed on Instagram and who recently followed you. Let's keep track of the Instagram following and follower lists in the way you need!
Tips. Checking how to see recently followed on Instagram from successful brands is a common way used by people to understand competitors, find out what target audiences are interested in, and reach Instagram growth. However, this Instagram growth strategy has the inherent drawback of a time-consuming period.
If you also want to check someone's recently followed for growing your account, you might as well use Getins+ to gain followers quicker. It is a specialized app for real and instant Instagram followers.
How to See Who Someone Recently Followed on Instagram 2023
The premiss requisite for seeing others' following list on Instagram is their accounts are public or you have followed them. The following list on a private account is inaccessible to unfollowers. To see someone's following list, you need to tap into the person's profile page and click the Following button to see the details. Since Instagram has stopped to showcase others' following lists in chronological order with the 2023 update, the user at the top isn't always the one people most recently followed.
Now, you will find the order is variable if you check it with different Instagram accounts. It is said that the order is mostly decided by interaction. While you can't directly view someone's recent following on Instagram, there are third-party Instagram scrapers to help you work it out. Here is how to see who someone recently followed on Instagram with a third-party application.
Step 1. Open the Chrome browser and search for IGExport. IGExport is a free Chrome extension that supports Instagram following list export in chronological order.
Step 2. Install IGExport on the Chrome web store and add it to the browser taskbar.
Step 3. Open Instagram on the browser, sign in, and search for the people who you're curious about.
Step 4. Go to the person's profile and copy the Instagram username.
Step 5. Click the IGExport extension on the browser taskbar, enter the Instagram username, and select Following.
Step 6. Click Export Following.
Step 7. It will direct you to the following list page and the one at the top are the person's most recent following. If you want to save the list offline, click the Downloading Following button.
How to See Who I Recently Followed on Instagram
If you have forgotten who you most recently followed on Instagram, you can directly find it out on your Following list. Follow the instruction to discover how to see who I recently followed on Instagram.
Step 1. Open the Instagram app, log in, and head to your profile.
Step 2. Tap the Following button to extend the list.
Step 3. There is a double arrow icon on the upper right of the following list. Tap it.
Step 4. Choose the Sort by option as Date followed: Latest.
The following list is in chronological order and the top person is the one you followed most recently.
How to See Recent Followers on Instagram
On the contrary, followers are people who have followed you. A lot of people have the demands of tracking recent followers on others' pages out of curiosity, competitor analysis, or other intentions. Instagram doesn't provide an option to sort followers by time whether it comes to other people's lists or your own's.
According to user feedback, the follower list seems to be randomly organized on the Instagram app. You will find that some people's follower lists are in chronological order, some are based on initials, and others are more likely to attribute to interaction. For instance, an Instagram account with less than 200 followers are usually in alphabetical order.
Is it possible to see recent followers on Instagram? A workable solution to get it done is to check the following list on the Instagram website. It is proven that the follower list on the browser version is displayed based on the time people follow the account. Here is how to see Instagram followers in order:
Step 1. Visit the Instagram website on your browser.
Step 2. Sign in and open the profile you want to find the recent follower from.
Step 3. Click the Follower button.
Step 4. A new Follower window appears. All the followers are ordered from the latest one to the earliest one.
How to Boost Recent Followers on Instagram
Many people are used to checking their recent following and followers to track Instagram growth trends. It will help adjust Instagram growth strategy for fast growth. How to quickly get more Instagram followers? Getins+ is a nice tool to achieve that. It is a practical Instagram followers app serving users with free and active Instagram followers. There is a user community with real Instagram users on Getins+. Everyone on this app can publish follower tasks with coins to claim followers. With this application, you can get instant followers without any extra steps.
Getins+ is available for mobile users. It is called Getinself+ on iOS and Getinsita+ on Android.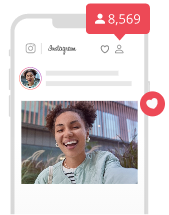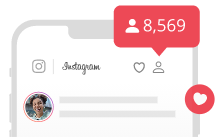 Best Free Instagram Followers & Likes App
Get real, unlimited free Instagram followers likes.
Grow daily, auto, instant Insta followers & likes.
Boost Instagram comments, Instagram reels & reels views quickly.
Here is how to get free Instagram followers using this tool.
Step 1. Download the application on your mobile phone.
Step 2. Sign up & in. Add the Instagram username of the account that you want to increase followers on. It will send free coins to new users as a reward.
Step 3. Select a follower plan and get free Instagram followers with coins. You should see your followers growing within a couple of minutes.
Also Read: The Best Instagram Followers Free Trial >>
The Bottom Line
How to see who someone recently followed on Instagram and who you recently followed on Instagram? Because of the latest updates on Instagram, the processes are different from the ones before. The methods above are the newest way to identify the latest change in the Following and Followers lists. Hopefully, you will find the information useful.