People post on Instagram so that they can interact with their followers and prospective audiences. Meanwhile, most people wish to see a large number of likes on their new pictures and videos. Getting more likes reflects high reliability and a strong sense of identity. It can also be beneficial to a higher rank of Instagram posts among the same niche and make an Instagram account more popular. This is why people are constantly eager to know how to get more likes on Instagram.
To increase likes on your Instagram posts, you need to follow a strategic path. This article will let you know about the best 8 Instagram likes tricks. Keep reading to learn how to get more Instagram likes in 2023.
Contents
How to Get More Likes on Instagram: Try the 7 Effective Tricks
Why Should You Get More Instagram Likes in 2023
Knowing how to get likes on Instagram and getting Instagram likes is very important for your survival on this social media platform. Instagram likes are one of the key metrics that the Instagram algorithm takes seriously. There are many reasons why you need to know how to get more likes on Instagram and some of them are as follows:
With increased likes, the authenticity of your Instagram will also increase.

Increasing Instagram likes means more engagement. The higher the engagement, the quicker the Instagram growth will be.

When you get more likes on your posts, Instagram will be more likely to give more emphasis on your future post when sorting out suggested posts for others.

Consequently, more people will reach your content. When they find your posts interesting, they will tap the red Heart icon and even follow your profile.
So, these are the reasons why you should know how to get a lot of likes on Instagram.
How to Get More Likes on Instagram: Try the 7 Effective Tricks
If you are still here, it's time to get the best tricks on how to get more likes on Instagram. Without further ado, we will start with the 7 tricks that are effective in increasing the likes count on your posts.
1. Create Compelling Content
The first thing that you need to do is revise your content creation strategies. If your posts in the past have not been able to gather enough likes, it means that they were not compelling enough. Base your Instagram posts on a compelling idea, one that a lot of people on Instagram are interested in. Keep up with the trends and create high-quality posts so that people are attracted to them.
2. Choose the Right Hashtag
Knowing how to get more likes on Instagram starts with knowing how to use hashtags in the right way. Hashtags on Instagram are one of the most important aspects that can change the fate of your Instagram account. You need to keep yourself updated with the best hashtags for Instagram likes and use them in each of your posts. Create posts and then add multiple hashtags that resonate with the posts. People following hashtags will also find your posts in the results and will like them.
3. Write Attractive Captions
When you have created a compelling and high-quality post and added the right hashtags, you cannot forget about writing a caption that illustrates the idea behind the post. Choose your words wisely and keep the caption as short as possible. People don't like to read a whole essay to understand the meaning of a picture.
4. Maximize Instagram Video Strategies
Video posts are much more efficient in attracting people than plain text or pictures. You need to take every factor into consideration if you want to get the best out of it. Create and share up-to-date and high-quality videos. Make the necessary changes in them by using a powerful editing tool. Add compelling audio layovers to your videos and add filters, transitions, and effects to make them more entertaining. The purpose of a video is to entertain and in the end deliver a message which your video should.
Now comes the most important element, the thumbnail. Choose a part of the video that will attract people the most and make it the thumbnail of your video. An engaging image with an entertaining video should do the trick and get you enough likes on your post.
5. Follow Instagram Trends and Viral Topics
Every day begins with a new or viral topic on this social media. It's the essence of social networks. You should do your best to keep yourself updated with the latest trends and topics. Share the viral videos or better yet, make your own custom video or post to instill originality into it. Additionally, add the latest hashtags and captions to this post to give it good odds of getting a lot of likes.
6. Cross-promote Content on Other Platforms
Instagram isn't the only platform that people use every day. You shouldn't put all your effort into making it on this social media platform alone but focus some of your energy on other platforms too like Facebook, Twitter, Reddit, etc. Share the links of your Instagram videos and posts on all the other social media platforms so that you can attract people from these platforms too. People who follow you on other platforms may not be your followers on Instagram. This gives you a great chance to make them a part of your journey too.
7. Run Like-based Giveaways
People hold giveaways on Instagram regularly for different purposes. You should also run one too but for the purpose of getting likes on your posts. Give the schedule of your giveaway to your audience on Instagram as well as other social media platforms in advance so that they can show up on time.
After the 7 common tricks, the following will show you how to get more likes on Instagram in another way. Let's move to the next part.
How to Get More Likes on Instagram: The Fastest Free Trick
The tricks given above get you the results that you want but they may take some time to do that. If you need likes and you are in a hurry, you should try this trick, Getins+. It is the best app to get Instagram likes, out of all tricks on the list.
To help you get more likes as fast as possible, Getins+ provides various instant like plans. You can get 100, 500, 1K, 5K, and more Instagram likes within minutes. This tool is available on Android named Getinsita+ and on iOS named Getinself+.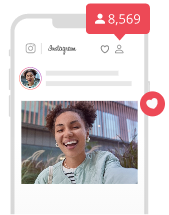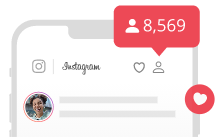 Best Free Instagram Followers & Likes App
Get real, unlimited free Instagram followers likes.
Grow daily, auto, instant Insta followers & likes.
Boost Instagram comments, Instagram reels & reels views quickly.
Why is
Getinself+

Getinsita+

Getins+

a good way to grow likes?
No bots or fake account. Getinself+Getinsita+Getins+ is an app that only has real people as its users. The users connected to this app are millions of registered Instagram members who help each get likes. So, if you want to know how to get more likes on Instagram, the app is the real way to go.

Organic Instagram growth. The app doesn't do anything that will alert Instagram algorithms on you or your account. All the likes you get will come from people who actively use Instagram. It also adopts a smart delivery algorithm, by which you will experience an organic increase in likes.

High privacy and data security. The app puts your privacy and the security of your data above everything else. It doesn't ask for your passwords or run you through surveys to collect any data.

Grow more likes without cost. The app is how to get free likes on Instagram. Instead of money, it enables users to exchange coins for free Instagram likes. You can earn these coins by completing some tasks and exchanging them to get likes on this app.

Fastest way to get high like count. As soon as you order free IG likes for your Instagram posts using the app, it starts delivering right away. You will get your order fulfilled instantly
Also Read: Top Free Instagram Auto Liker Without Login >>
How to get more likes on Instagram using
Getinself+
Getinsita+
Getins+
Here is how to get more likes on Instagram using the app.
Step 1. Download and install the app
Download the app on your phone. Install this app and launch it.
Step 2. Add your Instagram account
Sign up if it is the first time you use this app. Then, enter the username of your Instagram account to link it to the app. You can add up to five Instagram accounts with one app account.
Step 3. Get more likes on Instagram
Earn coins by completing different missions and tasks, then visit the in-app store and select one of the Instagram likes plan. Tap Get Likes Now to proceed.
That's how to get more likes on Instagram using the app. You can also get Instagram followers free by following the same steps.
The Bottom Line
The demand for likes on Instagram posts is increasing and everybody wants to know how to get more likes on Instagram. If you also want to increase likes on your posts, the tricks given above can help you do that. Using the app to get likes is the fastest way if you want to see immediate growth. So, download Getinself+Getinsita+Getins+ and get more Instagram likes with several simple taps.