Do you want to increase your like counts on Instagram? You may have made a lot of efforts on earning likes from your audiences by creating great posts, sharing amazing photos, but only saw small changes on your like counts. An easier way to achieve fast increase on likes is using hashtags for likes on Instagram. Using top hashtags for Instagram likes can boost engagement on your posts and help your account grow.
Not sure which like hashtags to use on your posts? Take a look below to find the best hashtags for likes on Instagram. Also, discover a detailed guide on Instagram hashtags and effective tips to get more likes on Instagram for free.
Part 1: What are Hashtags for Likes on Instagram?
Are you pondering the purpose of using the best hashtags for likes on Instagram? Simply put, hashtags are words or phrases preceded by the "#" icon, which turns them into a clickable and searchable topic.
Using these tags, you can help organize your content into relevant categories on the platform. People can click or search for hashtags to find the content they're interested in, so your posts can reach the target audience easily.
Part 2: 100 Best Hashtags for Likes on Instagram in 2023
Are you thinking about what hashtags get most likes Instagram? For your convenience, here are the 100 best hashtags for likes on Instagram 2023 and the numbers of Instagram posts:
1. #love 2.1B
2. #fashion 1B
3. #photooftheday 1B
4. #beautiful 800M
5. #photography 952M
6. #picoftheday 701M
7. #happy 117M
8. #follow 264M
9. #nature 745M
10. #tbt 579M
11. #instagram 959M
12. #travel 658M
13. #like4like 499M
14. #style 615M
15. #repost 549M
16. #summer 535M
17. #instadaily 600M
18. #selfie 450M
19. #beauty 507M
20. #girl 423M
21. #friends 431M
22. #instalike 472M
23. #me 449M
24. #smile 425M
25. #family 422M
26. #photo 464M
27. #life 419M
28. #likeforlike 330M
29. #music 416M
30. #ootd 411M
31. #makeup 381M
32. #follow4follow 257M
33. #amazing 286M
34. #IGers 278M
35. #nofilter 284M
36. #model 342M
37. #sunset 312M
38. #beach 287M
39. #design 334M
40. #motivation 325M
41. #instamood 270M
42. #foodporn 292M
43. #lifestyle 324M
44. #followforfollow 264M
45. #sky 255M
46. #l4l 224M
47. #f4f 222M
48. #handmade 327M
49. #likeforlikes 375M
50. #cat 271M
51. #memes 225M
52. #gym 239M
53. #workout 206M
54. #home 200M
55. #holiday 165M
56. #sea 169M
57. #goodmorning 133M
58. #night 133M
59. #healthy 184M
60. #art 649.9M
61. #cute 569.1M
62. #followme 528.5M
63. #business 101M
64. #smallbusiness 104M
65. #training 133M
66. #entrepreneur 93M
67. #baby 224M
68. #swag 147M
69. #party 186M
70. #cool 165M
71. #yummy 193M
72. #wedding 241M
73. #instafood 228M
74. #fitness 500M
75. #fit 186M
76. #black 169M
77. #inspiration 228M
78. #drawing 273M
79. #workout 206M
80. #pink 107M
81. #flowers 248M
82. #hair 236M
83. #trending 259M
84. #viral 285M
85. #lol 169M
86. #marketing 69M
87. #branding 38M
88. #success 82M
89. #sale 95M
90. #onlineshopping 85M
91. #promo 35M
92. #water 87.2M
93. #health 156M
94. #healthylifestyle 113M
95. #boy 104M
96. #funny 229M
97. #reels 361M
98. #dog 353M
99. #car 93.3M
100. #quote 150M
Part 3: Benefits of the Best Hashtags for Likes on Instagram
Do you want to learn the benefits of using the best hashtags for likes on Instagram? Here are some advantages of using these best Instagram hashtags for likes:
Using the best hashtags for likes in Instagram requires minimal effort and yields great benefits. It is relatively easy to get more likes without spending much energy.
The best hashtags for likes on Instagram provide greater exposure for your target audience. You can simply click on a hashtag and find all the relevant content and posts easily.
Using the best Instagram hashtags for likes proves beneficial in boosting engagement on your content. The tagged posts appear more frequently in the relevant feeds and can easily reach the right people.
You can create targeted campaigns when you add relevant hashtags to your content. The best hashtags to use on Instagram for likes can help brands and businesses boost their sales via promotions and enhanced visibility.
Part 4: How to Use the Best Hashtags for Likes on Instagram
Wondering how to use the best hashtags for likes on Instagram 2022? Here is a step-by-step guide explaining how you can achieve this on your Instagram:
1. For Instagram Story
Step 1: Click on the "+" icon on your Instagram screen and choose "Story" from the options at the bottom. Choose the image or video you wish to add to your story.
Step 2: Next, tap on the Stickers icon from the top. Scroll down to locate the "#HASHTAG" option and tap on it. (or you can copy paste Instagram hashtags from the top 100 list.) You can then add the best hashtags for likes on the Instagram story. Tap the "Share" icon to post your story.
2. For Instagram Post
Open Instagram and click the "+" icon from the bottom, then select "Post." Choose the media files you wish to upload and tap the "Next" button. In the "Write a caption" segment, you can add the hashtags of your choice. After that, tap on the "Share" button to post. (If you need hashtag for Instagram followers, just search as the same way.)
Part 5: How to Get More Likes Without Best Instagram Hashtags for Likes
Although using the best hashtags for likes and followers on Instagram is easy and efficient, results might be slow. An easy alternative to hashtags is Getins+.
Getins+ is a remarkable app available for iOS (named Getinself) and Android (named Getinsita+) devices, which can help you get free Instagram auto liker without login as well as followers. You can see effective results in real time. It also provides various plans for increasing your followers, likes, comments, or views count according to your requirements.
1.What Can
Getinself

Getinsita+

Getins+

Offer You?

Here are a few benefits GetinselfGetinsita+Getins+ provides to its users:
Free Unlimited Likes Without Hashtags: GetinselfGetinsita+Getins+ uses a coin-based system that can be earned by completing simple tasks, so you can get free and unlimited likes on your posts without using the best hashtags for likes on Instagram.

All REAL Instagram Likes, No Cheat: GetinselfGetinsita+Getins+ provides free Instagram likes trials by authentic users from a global network; thus, you don't have to worry about fake likes or being shadow-banned.

24-Hour Delivery, Daily & Instant: You can get free likes daily or instantly, according to your requirements. GetinselfGetinsita+Getins+ provides users with swift deliveries of likes and also allows them to grow their likes organically.

Free Followers without Hashtags: Besides Instagram likes, you can get free Instagram followers using GetinselfGetinsita+Getins+ without using top hashtags with your every post.

100% Safe and Private: GetinselfGetinsita+Getins+ is a secure, malware-free tool that is 100% safe to use. The best app to get Instagram likes does not require lengthy surveys or human verification, so you can use it without trouble.
2. How to Get Free Insta Likes on
Getinself
Getinsita+
Getins+
To get free likes on Instagram using GetinselfGetinsita+Getins+, follow the simple steps mentioned below:
Step 1: Download and Launch the app
Download and install the GetinselfGetinsita+Getins+ app on your phone, then launch the application.
Step 2: Earn Coins
After launching the app, add your Instagram account to it, luckily, you can get Instagram likes without password. Next, go to the "Missions" section and complete simple tasks in exchange for coins.
Step 3: Exchange Coins for Likes
Once you have enough coins, head over to the in-app store. Next, select the number of likes you wish to receive, select your post, and use your coins to get free likes without using the best hashtags for likes on Instagram.
The Bottom Line
Instagram hashtags are an easy and effective way to increase the like count on your posts. The above-mentioned read lets you know some of the best hashtags for likes on Instagram. If you want to receive free likes and followers on Instagram without much trouble, you can use the remarkable GetinselfGetinsita+Getins+ app.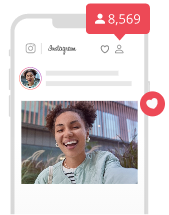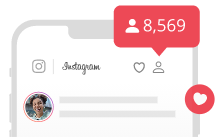 Best Free Instagram Followers & Likes App
Get real, unlimited free Instagram followers likes.
Grow daily, auto, instant Insta followers & likes.
Boost Instagram comments, Instagram reels & reels views quickly.