Using Instagram hashtags is a great technique to get more people to see your posts and gain more followers and likes in 2023. When you come across any popular posts that are performing better than others, you may wish to duplicate the Instagram hashtags for future posts.
You may have noticed that it is not possible to copy paste Instagram hashtags with the Instagram app. Don't worry. In this article, I will show you 3 different methods to copy hashtags from any Instagram posts for Android and iOS users.
Copy Hashtags from Instagram Posts without Additional Apps
You may utilize a browser app on either an Android or an iPhone. That is all you require. With that completed, you may quickly copy and paste hashtags from other accounts:
Step 1. Within the Instagram app, locate the post that you want to copy hashtags from and tap on the 3 dots in the top right corner of the post.
Step 2. Select Copy Link and then paste the link into a browser like Safari or Chrome.
Step 3. Click Load More until the hashtags are visible and then you copy hashtags now.
This strategy may also be used to replicate hashtags that perform effectively for your competitions. You may start by looking at your competitors' posts and copying all of the hashtags from the ones that generate the most interaction. Copy and paste them into a notepad, separated by brackets, and then delete any that you believe are unnecessary to what you wish to say.
You can pick the hashtags from 3 or more competitors' post and then see which of the 3 posts perform best.
Also Read: Instagram Free Followers Trials [100% Free, Real & Safe & Working] >>
How to Copy Hashtags on Instagram for Android
There is a specific app for Android users that allows them to copy hashtags from Instagram postings. It's called iRepost, and you can get it for free from the Google Play Store. After installing this program, you may copy and paste Instagram hashtags by following the instructions below.
Step 1. Open iRepost app, tap on the button on the top right. It will bring you the Instagram app.
Step 2. From the Instagram app, find the post with the hashtags that you want to copy.
Step 3. Click on the three dots icon of the post and select Copy Link. You will be brought back to iRepost app automatically after copying the link.
Step 4. As you can see from the screenshot above, you have three options within iRepost, Copy Hashtags, Copy Text, and Repost. Just click Copy Hashtags to copy all hashtags of this post.
This program is quite valuable to me. Aside from hashtags, you may copy captions from Instagram posts with a single click or just repost it to your Instagram account. Actually, this program may be used to download Instagram videos and photographs. All videos and photographs from the post URL you copied are downloaded instantly to your Android phone. Downloaded Instagram photographs and videos may be found under Phone Storage/iRepost.
Also Read: Instagram Reels Views Hack >>
If you want to get followers without copying and pasting hashtags, try Getinself+Getinsita+Getins+ now!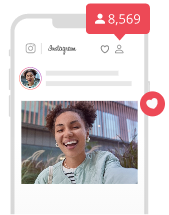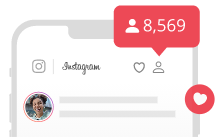 Best Free Instagram Followers & Likes App
Get real, unlimited free Instagram followers likes.
Grow daily, auto, instant Insta followers & likes.
Boost Instagram comments, Instagram reels & reels views quickly.
You May Like: Best App to Get Instagram Followers Without Following [5 + 3 Tips] >>
How to Copy Hashtags from Instagram Posts on iPhone
To copy hashtags from an Instagram post, iOS users may utilize a simple shortcut. The Shortcuts app is a popular iOS automation software. Since iOS 13, the Shortcuts app has been pre-installed on iPhones and iPads.
Within the Shortcuts app, you may build a variety of shortcuts that are linked to a variety of tasks. You can, of course, acquire more pre-made personalized shortcuts from the Library or any iCloud connection.
As for copying Instagram hashtags, you can use this Instagram Hashtags shortcut. To get it on your iPhone, you can just open the iCloud link in Safari and tap Get Shortcut. You can run the shortcut from the Shortcuts app, Share Sheet, Widget, or even ask Siri to run a shortcut for you, so it is quick and convenient.
Once you have the shortcut, simply copy the post link as mentioned in the previous two methods and execute it. You will be alerted in a few seconds, and the hashtags will be copied to your clipboard.
That is not the case. You may also open the shortcut in edit mode to change it to your liking. For example, if you wish to utilize the copied hashtags in a new post, you may add a "Post to Instagram" action and use the clipboard as the hashtag. There are a few additional tricks you may use to increase your Instagram interaction rate.
Hashtag Generator shortcut: generate the hashtag for Instagram according to the requirement of your camera
Instagram Composer shortcut: compose Instagram captions with managed hashtags. It adds a customizable divider between the caption text and the hashtags. The tags are sorted alphabetically without duplicates.
Instagram Category Selector shortcut: select your hashtags based on your category.
Before You Go
Here are three methods for copying and pasting Instagram hashtags. If you don't want to install any more programs, use the first way, however the other two are far superior.
Of course, there are other applications that can perform the same thing, but I believe these are the simplest. The Android software iRepost may copy hashtags, as well as text, repost, and download posts. The Shortcuts app for iOS has no bounds. It can be used to automate almost any task you can think of.
If you also like to grow your free Instagram followers, you can try this Getinself+Getinsita+Getins+ app. It is free and definitely worth a try.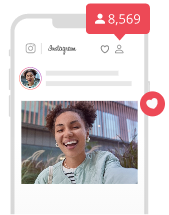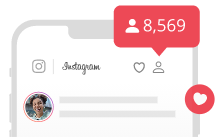 Best Free Instagram Followers & Likes App
Get real, unlimited free Instagram followers likes.
Grow daily, auto, instant Insta followers & likes.
Boost Instagram comments, Instagram reels & reels views quickly.