Since the birth of hashtags, they have been in use everywhere. They are available on Instagram, too, and using them defines how well your photos and videos are perceived. They allow you to reach out to more people, which is why they cannot miss anything you post. A hashtag for Instagram followers is crucial for those who require more following on their accounts.

It's challenging to gain followers without using proper hashtags to invite them. So, we will help you with some of the recent hashtags you can utilize on IG.
We will also share an app that will help you gain followers as an alternative. Before that, let's see what the hashtags for followers on Instagram comprise and why you should have them. There will also be 20 examples for you to peruse.
What is Hashtag for Instagram Followers?
We first need to understand what a hashtag is. It's simply a combination of words, letters, numbers, or emojis starting with the # symbol. They generally help in making your content discoverable.
Instagram hashtags for followers are simply hashtags that entice more people to join your account. When you use them, your content appears on more news feeds where those sharing the same interests will find you.
If you are looking to grow more followers on a young account, then you can't ignore the power of hashtags to gain Instagram followers. They will help you in getting your content on more devices out there. If others use the same hashtags, your content will appear on numerous feeds whenever people search for the hashtag.
Why Use Hashtag for Instagram Followers?
We have already highlighted some of the hashtag for Instagram followers uses and why they are essential to your posts, reels and stories. An important reason you should have them is their ability to expand your audience.
Hashtags asking people to follow you or having exciting things for them to follow will contribute to a few people joining your account. There are lots of people who will follow you because of the hashtag you are using. Others will follow hashtags, meaning your photo or video will appear on their end.
20 Most Popular Hashtags for Instagram Followers
Would you like a few hashtag for Instagram followers examples? Here are 20 of them for you to try out.
#love: 1.835B
#fashion: 812.7M
#beautiful: 661.0M
#photography: 583.1M
#picoftheday: 570.8M
#follow: 560.9M
#followme: 528.5M
#like4like: 515.6M
#instagram: 482.6M
#repost: 471.4M
#instadaily: 444M
#me: 420.3M
#fitness: 395.8M
#food: 391.9M
#beauty: 382.8M
#smile: 364.5M
#photo: 334.6M
#likeforlike: 328.2M
#ootd: 308.2M
#follow4follow: 290.6M
#amazing: 277.5M
How to Use Hashtags for Instagram Followers
Depending on your niche and the targeted masses, you can use the hashtags above. There are fitness hashtags for Instagram followers on the list, as well as for those who are traveling. So, check what benefits your niche and proceed to utilize using the following steps:
Step 1: Select your video or photo the usual way you post.
Step 2: After writing the caption, there is an option to include hashtags before you post. Choose the hashtags you want to use above and type them directly there.
Step 3: You can add up to 30 hashtags. If that seems too clumsy, you can include 5-10 most popular ones in your niche. After that, post your content and wait for it.
Your posts, stories, and reels can all use Instagram hashtags for followers.
How to Get Followers without Hashtag for Instagram Followers
Although, using hashtags for Instagram likes and followers on your Instagram content will help reach more audiences. It takes too much time to wait and consumes your energy to pick hashtags. There is, however, a faster way to gain more followers than using the associated hashtags.
It involves using the Getins+ app to help you hunt followers. With this app, whether on Android (Getinsita+) or iOS (Getinself+), there are free ways to gain followers, and it involves completing simple tasks on the application.
You can also earn likes and comments via the application. It's, therefore, an Instagram followers app with more to benefit you. After the quick installation, here are some of the things you will get.
What Can
Getinself+

Getinsita+

Getins+

Do for You?

With Getinself+Getinsita+Getins+, you get a free Instagram followers trial without the need to use hashtags. After that, you will know where to get more followers if you need them. There is also no limitation to the number of followers you can get.

Getinself+Getinsita+Getins+ is an Instagram follower boost app with active followers behind it. Therefore, there is no bot work involved while getting your followers. There will be no reason for Instagram to restrict your account due to inactive accounts following you.

When you gain coins on Getinself+Getinsita+Getins+, you can buy followers who will be auto-following your account every day until the package is delivered. That means you will have more followers coming in than depending on the relevant hashtags to deliver the same way.

As you get IG fans from this Instagram follower boost app, your account has no security concerns. It will not give information to anyone, and people will not know that you are using an Instagram followers application to get more people on your brand.

It will also get Instagram likes without password. So, your Instagram account will remain secure all through.
How to Get Free Insta Followers on
Getinself+
Getinsita+
Getins+
Here is how you can use Getinself+Getinsita+Getins+ to gain more Instagram followers free trial on your account:
Step 1: Download the application from the official website. Install and launch to create an account. After that, add your IG account username and claim your first coin reward.
Step 2: Earn more coins by following other accounts, liking posts, recommending the app to friends, logging in every day, and entering the lucky draw.
Step 3: Use the coins to buy the followers you require on your account.
The Bottom Line
A hashtag for Instagram followers is a sure way to urge more followers to join your account. We shared a few to help you climb the follower's ladder. If you, however, need a faster delivery, then try the Getinself+Getinsita+Getins+ option.
It has proven to many that it can deliver Instagram followers for free. Download it today on your Android or iOS phone and get a chance to win coins as a welcome gift.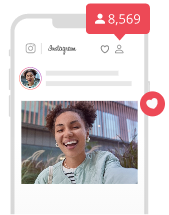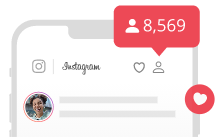 Best Free Instagram Followers & Likes App
Get real, unlimited free Instagram followers likes.
Grow daily, auto, instant Insta followers & likes.
Boost Instagram comments, Instagram reels & reels views quickly.