It is not an easy task to increase a large number of real followers on Instagram, you would be frustrated when you find that your followers have not improved much instead may even be declined after spending a lot of effort. Stop feeling sad and grab the opportunity for change. Figuring out how to know who unfollowed you on Instagram and what kind of characteristics they have is crucial, which is the key to analyzing what you can do to win back this part of followers, or at least, stop losing them.
You should be aware of one fact up front: Regardless of whether your profile is public or private, Instagram does not let you know when someone unfollows you. This is done to safeguard user privacy. Additionally, Instagram doesn't provide an official way to check your unfollowers. Therefore, even if you can see the number of Followers on your profile decline, you won't be able to tell who unfollowed you on Instagram. Fortunately, there are two methods available: checking manually or using a third-party app to see who unfollowed you on Instagram. Keep reading.
How to See Who Unfollowed You on Instagram Manually - 2 Methods
You are so lucky that this guide finds out 2 manual ways for helping check who unfollowed you on Instagram without third-party apps below:
Method 1. Check "Follower List" on the Instagram App
When your followers unfollow you, the most immediate change is reflected in your follower list. The first manual method is to check your Followers List. This method is suitable for those whose followers are few, better not to pass 1000 followers.
Step 1. Making a data log and backup.
To perform manual checks more accurately, you'd better do some data log daily and backup in advance. For example, record how many followers you have in real-time today, and what are those followers you have (remember or write down their Instagram ID).
Step 2. Go to "Follower List".
On your Instagram profile, tap on Followers to open your Followers list.
Step 3. Check Manually.
Search for the followers' IDs, that you kept in mind or wrote down before, using the Search bar. If they appear, they are still following you, otherwise, you will find that they had unfollowed you on Instagram. That's it.
Method 2. Download Insta Data to Compare
Unlike using an app to see who unfollowed on Instagram, this method enables you to check who unfollowed on ListDiff.com, without any app.
Step 1. On your Instagram, go to Settings and select Security.
Step 2. Tap on Download Data from the panel, and then confirm Download.
Step 3. Instagram will email a copy of your data to you in about 48 hours, next, download the data from there.
Step 4. Unzip the file, and open the Followers.html and Following.html.
Step 5. Head to ListDiff.com, copy and paste data of Followers.html in list A, and Follwing.html in list B. Click the Compare Lists button.
Sort the results after they are generated from A to Z, and then you can easily see those accounts that have unfollowed you on Instagram at the bottom of list B.
2 Best Apps to See Who Unfollowed You on Instagram Free
After learning how to manually check who unfollowed you on Instagram, let's see how to use a third-party app to know who unfollowed you on Instagram quickly and conveniently. Then, what's the best app to see who unfollowed you on Instagram for free? Here are 2 options for you, one is for Android and the other one is for iOS.
#1 Follow Cop - App to See Who Unfollowed You on Android
Follow Cop is a great free app to tell you who unfollowed you on Instagram, which is only available on Android. It keeps track of which accounts have stopped following you on Instagram or identifies which accounts didn't follow you back, after adding your Instagram account for monitoring.
Main Features of Checking Unfollowers:
- See who didn't follow you back
- Check who recently unfollowed you within a week
#2 Followers Trackers Pro - App to See Who Unfollowed You on iOS
Followers Trackers Pro is another how to know who unfollowed you on Instagram app for iOS users. It is a helpful app to manage people who don't follow back and monitor your unfollowers when they unfollowed you on Instagram.
Main Features of Tracking Unfollowers:
-Track lost followers and see who unfollowed you on Instagram
- Track all your accounts in one place – up to 3 accounts at the same time
How to See Who Unfollowed You on Instagram with App
Now, let's see how to know who unfollowed you on Instagram app with Unfollow track app. Here take Followers Trackers Pro for example, which has the similar steps of using Follow Cop on Android.
Step 1. Get the app to see who unfollowed you on Instagram free on your device and open it.
Step 2. Create an account with your Email credentials.
Step 3. Go to the "Lost Followers" and check who unfollowed you on Instagram recently.
Tips to Prevent Followers from Unfollowing You on Instagram
Seeing those free Instagram followers who unfollowed you on Instagram and trying to get them back is a good heart-searching. But beyond that, to maintain your current followers, you should spend more time and energy thinking about how to prevent followers from unfollowing you. Here are 3 practical tips for you.
Tip 1. Keep a Consistent Posting
Sustain consistent posting does not necessarily imply posting every day of the week or, worse yet, several times. Rather, it means being trustworthy for both yourself and your audience by setting a schedule and a plan and sticking to it. To expand your Instagram following, earn followers' trust, and make it clear to potential clients why they should choose you, you must continually show up.
Tip 2. Interact with Your Followers
Continue interacting with your followers by using interactive stickers to respond to their comments on your posts. If not, they'd assume you're inactive or even boring and start unfollowing you. Also, make an effort to comment on their posts.
Tip 3. Sustainably Get 100% Real Followers
You can make the most use of some best Instagram followers app, like Getins+, to sustainably get 100% real Instagram followers. Getins+ is such a reliable Instagram followers booster helping increase unlimited followers, without unfollows, without payment, and without password, on both Android (Getinsita+) and iOS (Getinself+). What makes it is the best option, check the following surprises that this Instagram followers app brings to you:
With
Getinself+

Getinsita+

Getins+

, You're Free to Enjoy:

A coin-based system runs well in this Instagram follower boost app so that you can exchange for Instagram followers with the coins you get in multiple ways, like coin tasks, daily Login, etc., which makes it free possible and free forever.

It guarantees to send you 100% real Instagram followers from active accounts and also promised that those followers are interested in your content and decided to follow you spontaneously and won't unfollow you randomly.

It is an easy way to increase fast followers from 0 to 1K, and to 10K next. Wondering how fast it would be? After some testing, there discovered that when you have a sufficient number of coins, you can gain 1000 followers in just 5 minutes. However, on average, there are routinely 1000 followers increasing per day, and then, in a week or so, reaching 10k followers with Instagram followers free trial.

Getinself+Getinsita+Getins+ provides a totally secure system, no pre survey, no password needed, no verification.

Your Instagram account can expand faster and more organic if it experiences overall growth. Therefore, it is crucial to increase post likes along with growing your follower base. The good news is that this app handles that as well and gives you a simple way to get Instagram likes without password, without spending any money.
How to Get Real Followers on
Getinself+

Getinsita+

Getins+

Without Unfollowing

Step 1. Download and install Getinself+Getinsita+Getins+ on your Android phone or your iPhone.

Step 2. Collect and earn coins after logging in with a created Getinself+Getinsita+Getins+ account.

Step 3. Tap on the Get Followers icon and then select an Instagram followers request plan, 50 followers, 500 followers, 1000 followers, or other plans you prefer, pay with your coins to get started.
Once you successfully launched an Instagram followers request plan, you will see people follow you on Instagram continuously. Just take a coffee and see the changes on your follower list.
The Bottom Line
After learning the manual ways and app to see who unfollowed you on Instagram, now you must have your choice. Remember that tracking unfollowers is important, but getting more followers and trying to maintain them is crucial as well. If your following is real, you will inevitably run the danger of losing them. You must continue to get followers and make growth far exceed the loss so that your account continues to expand. Getinself+Getinsita+Getins+, an Instagram growth booster app, allows you to keep growing followers and likes effortlessly and swiftly. Download this app now!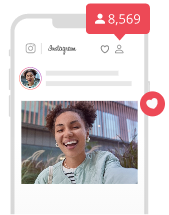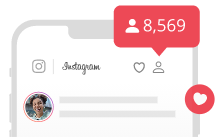 Best Free Instagram Followers & Likes App
Get real, unlimited free Instagram followers likes.
Grow daily, auto, instant Insta followers & likes.
Boost Instagram comments, Instagram reels & reels views quickly.