As Instagram users, you always want to be free to follow or unfollow other accounts on Instagram without limitation. However, to ensure an authentic and safe Instagram community, Instagram enhanced its features of monitoring IG users' activities, including implementing Instagram unfollow limit and follow limit, per day, per hour. If you reach the limit on Instagram, your account may be banner/suspended, which is harmful for your account/brand fame.
To prevent this terrible situation, you need to know the Instagram follow and unfollow limit 2022 first. This article shows you the specific number of follow and Instagram unfollow limits, and the best way on how to bypass unfollow limit on Instagram. Let's drop into it!
Why is There Instagram Unfollow Limit?
Before getting into the point, you should figure out why there is Instagram unfollow/follow limit. As we all know, Instagram is an extremely popular community which owns a billion active users every month. Millions of accounts will upload their posts, Stories every day, and do interactive activities with each other. So to avoid the overcrowding on Instagram and guarantee its normal working process, there is Instagram unfollow limit per day/hour.
What's the Instagram Unfollow Limit/Follow Limit?
What's the Instagram unfollow limit 2022? And follow limit per day? We tested that the Instagram follow and unfollow limit per day is 50 to 200 accounts. And normally, the number of following or unfollowing limits are decided by your account behavior.
Follow/Unfollow Limit Per Day
Please check the rules as follows:
50 follow or unfollow/day on week 1

100 follow or unfollow/day on week 2

150 follow or unfollow/day on week 3

200 follow or unfollow/day on week 4
If you are a new user, then you are only allowed to follow/unfollow 50 per day for the first week. As times goes by, when you have more Instagram followers free and engagement, you can follow/unfollow 100 for the second week, 150 for the third week, and up to 200 for the fourth week.
Please notice that the maximum number of following is 7500 accounts, no matter how many followers you have.
Maximum of Follow in Total
Besides, if you want to know how many accounts you're allowed to follow/unfollow per hour, please check the following content.
Follow/Unfollow Limit Per Hour
Please check the rules as follows:
To remove your unwanted Instagram followers, you can take the above rules to unfollow them regularly.
Factors that Determine Instagram Unfollow Limits/Follow Limits
As it is shown above, Instagram follow and unfollow limit is not a certain number for every user. Instead, it will vary based on multiple factors. Then, what are the main factors of limits on Instagram follow and unfollow? Check 4 factors as follows:
1. Age of Your IG account
The longer you use Instagram, the older your account will be. Your Instagram account will be considered as an old account if you have used it for over 3 months. And if you keep improving your Instagram account every day, and own more than Instagram 2k followers, you'll get more chances to follow and unfollow.
2. Your Account's Activity
Instagram has its algorithm to inspect all your activities online. The more activities you participate on Instagram, the more active and positive your account being seen as. Accordingly, the more features you're allowed to use on Instagram.
3. Number of Followers
Instagram has a greater limit for users who have a small number of Instagram followers. So the more IG followers you have, the more activities you are allowed to do. You can try the Instagram followers free trial to get a larger number of followers.
4. Your Engagement Rate
Engagement on Instagram is an essential meter to estimate your actions on Instagram. In general, there are 4 main elements that affect your engagement rate: Instagram likes, Instagram comments, post shares, and post saves. The higher of your engagement rate, the better.
What Happens When You Reach Unfollow Limits?
What happens if you reach the limits? If you have tons of inactive Instagram followers or fake followers and want to mass unfollow them to enhance your account at a time, which surpasses the maximum number, your Instagram account would be blocked or suspended for a period of time. During the time, you are limited to use all features on Instagram.
Therefore, it's quite clear that you'd better obey the rule and protect your Instagram account well. You may ask: is there any way to bypass unfollow limit? Certainly, yes! Keep reading to find the best tool for you to bypass Instagram limits and get 100% real and active followers for free.
How to Bypass Unfollow Limits: Get 100% Real Followers
How to bypass Instagram unfollow limit? People choose to unfollow accounts due to they own multiple fake or bot inactive followers. But what if all their Instagram followers are complete real and active? They don't have to unfollow anyone. So the most effective and radical way to bypass Instagram unfollow limit is boost 100% real followers with Getins+.
This wonderful Instagram followers app built up a safe community gathering millions of real Instagram users, allowing you to get followers without restrictions. And it's easy to get 1k followers on Instagram in 5 minutes as long as you earn enough coins by doing kinds of simple coin tasks. You can use it on your iOS (Getinself+) and Android device (Getinsita+).
Main Features:
Since it creates a platform gathering authentic IG users together, all your followers are real and active. They will follow you instantly if they are interested in your post or profile. They will like or comment on your post in a second if they're fond of it.
The Instagram follower boost app guarantees to offer you 100% free services. You don't have to pay anything for the order and the only thing you need to do is finishing the coin tasks, including daily login, lucky draw, liking others, and so on.
As for Getinself+Getinsita+Getins+'s safety, it uses the best-in-class security system. You're able to use the app to get free followers without any survey, password, and human verification. You won't be risky to leak your privacy or data.
Getinself+Getinsita+Getins+ is also the best app to get Instagram likes and boost Instagram views on Reels, Story and videos based on a large followers base. You can get free likes from 50 to 150, 500 and more with coins as well.
How does
Getinself+

Getinsita+

Getins+

work?

Step 1. Download the Getinself+Getinsita+Getins+ app & launch it on your device.

Step 2. Add your Instagram username (up to 5 usernames) and sign up to log in to it.
Step 3. Do tasks to earn coins.
Step 4. Get free followers and likes with coins.
The Bottom Line
To conclude, the general Instagram follow and unfollow limit 2022 per day is about 100 to 200 accounts and up to 15 accounts per hour. But it may vary due to 4 factors that affect the follow/unfollow limit for your account. How to bypass Instagram unfollow limits when you in need? Gradually get rid of those accounts. Or use Instagram followers app, Getinself+Getinsita+Getins+, to get free real and unlimited followers without following.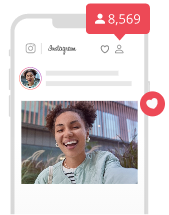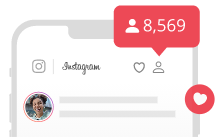 Best Free Instagram Followers & Likes App
Get real, unlimited free Instagram followers likes.
Grow daily, auto, instant Insta followers & likes.
Boost Instagram comments, Instagram reels & reels views quickly.