Setting a profile photo is something that everyone does when they start an Instagram account. This photo, like your ID card, tells people who you are, what type of person you are, and what you look like. However, unless you are famous, it is difficult to have or always have a photo with a high recognition.
If you lack Instagram profile picture ideas, this article will inspire you. We provide 7 profile picture ideas for Instagram for you, and every idea is practical.
Why Does Instagram Profile Photos Matter?
The first step in this post is to determine why Instagram profile images are important. If you do not recognize its significance, you may lose a large number of prospective followers. Understand its significance so that you can use it effectively. Following that, we'll go over its significance for three reasons: first impression, following, and engagement.
To begin with, a decent profile will make a favorable impression on others and pique their interest in you. In real life, we all know how crucial first impressions are, and your Instagram profile photo is yours. So, if you don't want to make a terrible impression, don't make errors.
Furthermore, a unique or stylish profile distinguishes you and makes you interesting, which will substantially increase the following. People are drawn to your profile, and they will click on it to learn more about you, read your tales, and view your updates. It will gradually raise the number of followers and likes on Instagram.
Finally, a well-designed profile will increase participation in your article. People are more likely to contact you if your profile is attractive or unique. There are numerous successful techniques to enhance interaction on Instagram, but modest steps can also assist to increase engagement. "Details come from attitudes, and details reflect quality," as one proverb says. The profile is the specifics.
You May Like: 10 Top Instagram Followers Apps | Grow Free Instagram Followers Quick >>
7 Best Instagram Profile Picture Ideas
Now, you have known the importance of Instagram profile photos. It would be much easier to understand this article. To get more Instagram followers and make your Instagram professional in a small way, let's look at the 7 best Instagram profile photo ideas for guys.
Idea 1. Be Confident & Show Your Face
Many of you prefer to utilize photos of celebrities or models, which have no relevance to your Instagram. Why not utilize your photographs? People are more interested in learning about your true self. It's time to create an Instagram profile photo of yourself. As a result of the photo of the real you, you will gradually gain a large number of devoted followers.
But do you know how to show your face in a good way? Here are some tips for you.
Be closer to the camera, make sure your face is in the middle of the picture

Make some positive facial expressions, sweet smiles, or some funny faces

Eye contact with your followers

Do some movements appropriately
Idea 2. Clean and Special Background
If you're bored with your profile, it might be because you disregard the backdrop. A unique and clean backdrop will help your profile stand out. However, you should be aware that the background must be compatible with the human. An irrelevant background most likely makes your profile look foolish and detracts attention away from you.
If you still don't know how to choose a background, there are two suggestions for reference.
Pay attention to color collocation. Determine the main color.

Clean or well-regulated background
Consider the following two Instagram profile images. At a glance, the predominant hues of them are white and blue. Their clothing colors are complementary to the backdrops. The beauty is dressed in white knitwear, the sky is azure blue with white clouds, and the man's clothing and skin match the mountain and sky. Both maintain a solid mix of figures and
Idea 3. Use Cartoon Pictures

Do you want to show others that you're amusing? Do you want to share your thoughts on life and the world? You may experiment with cartoon images, particularly exaggerated cartoon profile photos, which can surprise you. Most people believe that Instagram users that utilize cartoons in their accounts are humorous and have a strong personality. One suggestion: rather than stealing other people's cartoon images, find someone to design a unique cartoon for you.
Idea 4. Take Professional Pictures
Why do we need professional photographs? To begin with, professional images will improve the quality of your Instagram profile picture by adding texture. Second, the majority of people's selfies are uncomfortable. Everyone like snapping selfies, who doesn't? When you don't know how to snap a selfie, it's easy to be shallow. So think hard before using a selfie as your profile picture. Taking professional photographs is the best option for these two reasons.

Idea 5. Update Your Picture Timely
One of the Instagram profile photo ideas is to update profile pictures timely. Most of you like changing photos during festivals in accordance with the festival atmosphere. However, it could be unseasonable if you use Halloween pictures during Christmas. Also, do not forget to change your Christmas profile picture when stepping into the hot summer. No matter how beautiful your profile is, update it in time. If not, it may cause misunderstandings that you don't post often, and you will lose potential IG followers.
You can either choose a picture that applies to every season or update your pictures timely.
It's harmful for your recognition if changing Instagram profile photo 2 or 3 times within a year. If necessary, changing 1 time a year and update timely.
Idea 6. Use Props and Light Wisely
If you enjoy skateboarding, you may include a skateboard on your profile to let others know. Props, in fact, demonstrate your passion or perhaps a career. Aside from that, some props will make your photo cute and funny. You can experiment with anything: an apple, a flower, your pet, or food...

Light is also an important component. If you have a great corporation with it, it will enhance your shot. People will get a fantastic sense from your shadow on the wall or on your face. The key to using light properly is to locate the light source and ensure that you are facing it. The magic of the day varies depending on the time of day. The morning light is a pretty girl, the midday light
Be careful backlight. Some of you believe that letting the camera facing the light would make photos brighter. Instead, a backlight will make your face gloomy!
Idea 7. Edit Your Photo to the Right Size
You have already read many ideas for Instagram profile pictures, but one last thing you may ignore is the size of your photo. The Instagram profile is a round circle, and sometimes it's hard to crop all the content or the important part of your photo. Besides, if your photo doesn't meet the standard, the photo quality would be lower. So what's the perfect size of photos so that you can crop all the content without blank and keep the photo quality?
For personal pictures: 110 x 110 pixels
Upload on computers: 612 x 612 pixels
Upload on phones: 510 x 510 pixels
Also Read: Best 7 Instagram Followers Boost App: Get Free Unlimited Followers >>
Bonus Tip: How to Attract Following Easily and Fast
If you feel it's slow to attract a following by improving profile pictures, then there's a method that will help increase followers easily and fast.
Getins+ works on Android (names Getinsita+) and iOS (names Getinself+) realms without any problems.
Getinself+Getinsita+Getins+ is one of the best apps to get Instagram followers for free. Besides, it has the best security system to protect your privacy. There's also no risk of being banned for we give you real and active Instagram followers. Someone might ask how it can be totally free. It's impossible. Actually, it is possible for Getinself+Getinsita+Getins+ in that you can do tasks to earn coins, such as logging into the app, following others, or liking others' posts. Once you earn enough coins, you can get unlimited free Instagram followers and free Instagram likes. This software works fine on both computers and phones. Try it and it won't let you down.
Also Read: Instagram Followers Free Trial >>
Bottom Line
As a matter of fact, Instagram is a tool to market yourself, and you are the commodity. Packing yourself well, you will benefit a lot from it. That's all about Instagram profile picture ideas for guys, which are suitable for all users. Hope these ideas will help you to have special, fashionable, high-recognition profile photos.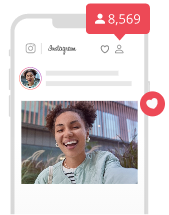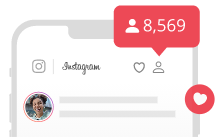 Best Free Instagram Followers & Likes App
Get real, unlimited free Instagram followers likes.
Grow daily, auto, instant Insta followers & likes.
Boost Instagram comments, Instagram reels & reels views quickly.