Since its initial introduction, Instagram has introduced several fascinating features to both its app and website. The search bar can accomplish more than you would think. In this post, I'll teach you how to search for followers on Instagram by name using the Instagram Search Bar or other workarounds.
The new search box allows you to go through someone's Instagram follower list for a certain individual. If you want to know if someone on Instagram knows someone else or find more fascinating profiles to follow, you can find the answers and more here.
How to Search Through Instagram Followers
Instagram implemented a search bar function a few years ago that allows you to search for a certain individual in the follower list or the following list from any profile. This is particularly useful if you want to know if someone is following or being followed by someone.
If you are not familiar with this feature, you can refer to the steps below:
Step 1. Open the Instagram app (Android or iOS).
Step 2. Go to one person's Instagram profile that you want to search from.
Step 3. Tap either Follower or Following at the top and you will see a search bar at the very top of the list
Step 4. Type the username or keyphrase in the search bar to start the search.
This search box, as previously said, is only available in the Instagram app. If you want to obtain Instagram followers through the website, stay reading to learn about alternative options.
You may also like: Instagram Free Followers Trials [100% Free, Real & Safe & Working] >>
Search Instagram Followers Online
Ingramer is a sophisticated online Instagram profile search engine that is completely free. It allows you to search Instagram users, biographies, emails, and phone numbers with specific criteria and receive immediate results.
Account age, number of followers, category, number of posts, number of followers, and gender are the filters. If you are not seeking someone in particular and just want to locate profiles in your specialty to leverage your profile, this tool is ideal.
Also Read: Instagram Script for Followers: Instagram 10K Followers Script & Instagram 100K Followers Script >>
Export The Complete List of Instagram Followers or Following
Alternatively, you may generate a complete list of any public Instagram account's followers or followers (or a private account you follow). You may then quickly search for Instagram followers by name. You only need a Chrome addon.
You can refer to the steps below to see how it works.
Step 1. Install the extension called Export List of Followers from Instagram for your Chrome web browser.
Step 2. Go to www.Instagram.com, then click the extension icon.
Step 3. In the pop-up window, type the name of the Instagram account to analyze and click the GET USERS LIST button.
Step 4. When a new tab opens, you can choose to export it into CSV or XLSX file.
After that, you may open the file with Excel or other office software to examine an Instagram profile's entire follower list. Then, press Ctrl+ F to search someone's Instagram follower list for a certain individual.
You may also like: 2022 10 Top Instagram Followers Apps | Grow Free Instagram Followers Quick >>
Why Should You Export Instagram Followers
Exporting your competitor's followers allows you to learn more about the account, keep a watch on its progress, and steal his or her followers. Once you have a complete list of followers, you can use the auto Instagram follow app to automatically follow them, like their photos, or leave comments. These will create alerts and attention, with the aim that they may like or follow you in return.
Actually growing free Instagram followers can be a lot easier with the right tool and methods. That's when Getins+, a free tool for getting 10k Instagram followers and likes, comes into play.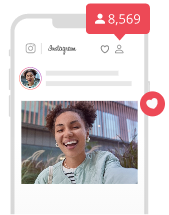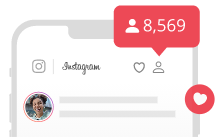 Best Free Instagram Followers & Likes App
Get real, unlimited free Instagram followers likes.
Grow daily, auto, instant Insta followers & likes.
Boost Instagram comments, Instagram reels & reels views quickly.
Getinself+Getinsita+Getins+ creates an immense community and it grows every day. In order to support each other, millions of real Instagram users meet here. After signing up, you will be provided with some coins that can be used to immediately purchase Instagram followers and likes. By completing some basic tasks, you will earn more free coins. For example, like other Instagram posts, share Getins+ with your friends, follow other Instagram accounts, etc.
You can get Instagram followers without following, with a little effort, who will actually like your posts. There are no catches, and you can use them forever free of charge. If you have a budget and want to grow Instagram followers on a large scale, then you can buy Getinself+Getinsita+Getins+'s real Instagram followers.
Should you trust another app with your Instagram password? Probably not because Getinself+Getinsita+Getins+ does require your Instagram. You only need to enter your username and Getinself+Getinsita+Getins+ will do its magic and increase your followers for real.
Other Ways to Find People to Follow on Instagram
If your goal is to find more people to follow on Instagram, you can use the previous methods and methods below.
Use Facebook to find your friends
Of course, this will only help you connect with folks you've joined to your social network. The process is short and simple, however, your Instagram account will be linked to Facebook. So consider whether this is something you truly want to undertake. To proceed, simply choose the three vertical dots on the right side of the screen by clicking on your profile symbol in the Instagram app (those that always mean something related to settings).
A new menu will open, and you should select "Find Facebook Friends." To proceed, you must indicate that you wish to link your account with the social network, which may be undone later if desired.
You will then see all of your Facebook friends who are currently linked to Instagram, with the option to follow them all or choose which ones you wish to follow particularly in the app. Isn't it much simpler to connect with your pals this way?
To unlink your Facebook account from Instagram, go back to your settings and choose "Linked accounts." Choose Facebook (which should be your first option), then click "Unlink" and confirm your choice. The good news is that you may modify this option at any time.
Find friends via phone contacts
Aside from Facebook, another simple way to discover individuals on Instagram is to use your phone contacts. Return to the profile settings option (where we activated your Facebook account) and select "Contacts." The app will request permission to access your contacts and will display all people who have an Instagram account.
You will have the choice of following all of your friends as well as the Facebook process. Only without having to connect your account to anything. Of course, having them saved as contacts on your smartphone is sufficient.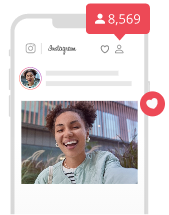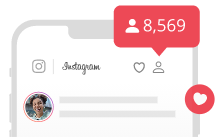 Best Free Instagram Followers & Likes App
Get real, unlimited free Instagram followers likes.
Grow daily, auto, instant Insta followers & likes.
Boost Instagram comments, Instagram reels & reels views quickly.