Instagram can be a powerful platform for building a following, ravings followers, and customers. But it takes time and effort to get those results. Many people pursue a large number of followers on Instagram by asking audiences to "Follow us on Instagram" on post captions. However, it's not always as simple as saying "Follow us on IG" to get users to really do it and start following your profile.

This tutorial will show you how to get more followers on Instagram by providing you 8 different types of Caption templates to say "Follow us on IG", as well as a skyrocket trick to boost followers. These templates and tactic will help drive people to take action and eventually follow you on Instagram.
Why Do You Say Follow Us on Instagram?
Have you ever considered the motives behind your Instagram followers? What is the primary reason they chose to stay with you longer? Since your followers are real people, there are psychological factors at play in each behaviour. Before diving deeper into how to effectively say "Follow us on Instagram" to attract your followers, let's figure out what is encouraging them to hit the Follow button on Instagram.
Call-to-actions words inspire people to follow someone on Instagram more.

Engagement with audiences, sales etc.

People are more likely to follow you by receiving instructions, like "Follow us on IG", than spontaneously. This is a human instinct.
In a sense, this is the first interaction between you and your coming followers. Engagement with more followers will help your account gain algorithmic preference.
How to Say Follow Us on Instagram: 8 Caption Templates
Then, how to say follow us on Instagram? Now, let's take a look at 8 carefully selected practical templates to express Follow invitation. These examples are all tested, if you say please follow me on IG in this way, you will get 3 times or more followers than just saying these words "Follow us on Instagram".
1. Join our Instagram for _____ tips and tricks where we help ____like you with better strategies.
2. You can follow us on Instagram where we help ______ with ______ so that they can___.
3. Follow us on Instagram where we post about ______ to help ______ with ______ so that they can ______.
4. Connect with us on Instagram for ______ where we help ______ with ______ so that they can ______.
5. Want to learn more about how I run ______ and improve the Purchase CTR? Check out my recent posts on my Instagram account.
6. If you would like to keep up on the latest ______, come by and connect with us on our Instagram, where we help small businesses like you , save your time, share tips and grow together.
7. Connect with us on Instagram for ______ where we help Influencers like you with your content strategies so that you can easily grow and scale your followers.
8. We are constantly updating new posts on Instagram about ______ content and marketing trends, follow us on Instagram to catch the trends.
How to Write Follow Us on Instagram and Other Social Media
After showing you how to say follow me on Instagram with 8 templates, this guide summarizes 3 more tips for how to write follow us on any social media:
1. Give your audiences an incentive to follow you on social media
The so-called motivating your users to follow you on social media, in essence, means that you need to clearly inform your users what specific benefits they will get as long as they do that. You don't have to list very substantive and detailed data, but it must be attractive so that they can't help but follow you on your social media.
2. Add social buttons as CTA to follow easily
As mentioned earlier, people will follow you more easily after receiving Follow instructions than wait for they follow you spontaneously. Therefore, you must take the initiative to give your Follow request. Use words such as follow us, subscribe to my channel, etc. to guide users to take specific actions. It would be even better if you could add a button of your social media platforms.
3. Use a friendly & warm tone to ask for follow
In addition to the above two points about how to say follow us on social media, your content and words need to be carefully considered. To ask for Follow on any social media, your words must be encouraging, kind, and friendly as a follow us on Instagram sign.
How to Get More Followers Without Asking Follow Us on Instagram
After learning about how to say "Follow us on Instagram" to get more free followers on Instagram, here you are lucky enough to get a skyrocket way to boost your IG followers faster and easier. What is it? That is using a best Instagram follower boost app named Getins+.
Getins+ is one of the best Instagram followers apps to get 100% free IG followers from real and active, even without asking Follow Us. It is simpler, quicker, and more effective. Getins+ works well on both on Android (called Getinsita+) and iOS (Getinself).
With
Getinself

Getinsita+

Getins+

, You Can Obtain:

By creating a coins-based system, GetinselfGetinsita+Getins+ makes it possible to get unlimited free Instagram followers without asking people to follow you. As long as you finish the coins tasks, you're free to exchange with IG followers. It's easier than ever.

All the followers you get from GetinselfGetinsita+Getins+ community are real Instagram users who can improve the engagement of your IG account. Plus, there is a no-drop protection provided by this reliable Instagram followers app so that you can don't worry about the losing of followers.

GetinselfGetinsita+Getins+ offers a 24-hour delivery promise, which greatly ensures that you'll quickly get Instagram followers. This is crucial and helpful when you need to negotiate some cooperation.

Concerns about safety are unnecessary. This is a 100% safe and pure application. No survey, no password, no human verification.

Besides increasing IG followers with unlimited Instagram followers free trial, you can also get unlimited free Instagram likes, Instagram views, and Instagram comments.
How to Get Free Instagram Followers on
Getinself
Getinsita+
Getins+
Step 1. Download and install GetinselfGetinsita+Getins+ on your mobile phone. Open it. And then sign up and login.
Step 2. Accumulate coins by daily login and doing easy coin tasks.
Step 3. Use your coins to publish a follower task. Just a few minutes, you will see lots of new followers start follow your profile on Instagram and even like your posts.
Tips: You can choose to get Instant Followers or get Daily Followers. Besides, it's also the best tool to get Instagram likes without password if you need.
The Bottom Line
With the above follow us on Instagram templates and the smart way to boost followers on Instagram with GetinselfGetinsita+Getins+, your road to success on Instagram will be much smoother. No matter you use the templates to invite people "Follow us on Instagram" or with the aid of the Instagram follower boost app GetinselfGetinsita+Getins+, you will reap the followers growth you've come to expect, along with more likes, sales, fame and status. What are you waiting for, get started now.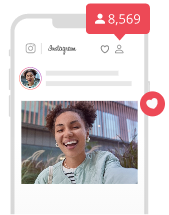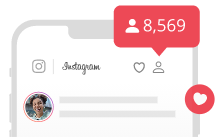 Best Free Instagram Followers & Likes App
Get real, unlimited free Instagram followers likes.
Grow daily, auto, instant Insta followers & likes.
Boost Instagram comments, Instagram reels & reels views quickly.