There is one question on Quora: How to grow Instagram followers on Reddit?
Some of you may be curious about Reddit, known as the "front page of the internet", it is a network of communities based on different subjects and topics. Breaking news, sports, a never-ending stream of the Internet's cutest animals... you can always find at least a subreddit you want to join on Reddit. It was shown that there are more than 430M average monthly active users and over 130K active communities on Reddit. Wow!
Topics associated with Instagram are among these active subreddits as Instagram is one of the most popular social media platforms, including Instagram followers and Instagram marketing. As followers are one of the most concerning things for Instagramers, some of them try to find ways to get Instagram followers on Reddit for free. But how? Read the following and you'll get the answer.
1: Join Communities Like FollowforFollow Instagram Reddit
There are a large number of communities. Which kind of community can help you gain Instagram followers on Reddit? The first hack to get Instagram followers on Reddit is joining relevant communities. We put the method at first because it's the easiest way to get followers on Reddit. Many people are trying to increase their Instagram followers. So there are some communities that aim to grow Instagram followers on Reddit, including followback, followforfollow, and Instagramfollowers.
Joining these communities and sharing your Instagram handle in the comment (that is your Instagram username) is the second. Then you can get free Instagram followers. It is clear that you are supposed to follow back as soon as possible. It is the most direct way to get more free Instagram followers Reddit. You can also follow someone and direct message him or her for a follow back.
2: Create New Posts to Gain Free Instagram Followers Reddit
An important thing you need to do before posting is to read the rules of the subreddit, which is always on the right side. Posts that break one of these rules are senseless because the moderator will delete them.
There are three types of posts on Reddit: simple text posts, links, and photos/videos. Photos perform better and links perform best. Just dropping the link in the post is not wise behavior. You can combine texts with a link in your post in communities to give others quick access to your Instagram profile and follow you. To create posts in communities such as follow4follow and FollowforFollow, you just need to post brief information about your Instagram account if you want and leave your Instagram username. That's an easy way to get free Instagram followers instantly on Reddit.
A flair is always useful because it helps users filter content on a subreddit. It functions as the hashtags on Instagram. When you post, it is a good way to add flairs to your post if possible. (Flairs are not available for some communities.)
You also need to notice the posting time. Time is important, so choose the right time to post. It mainly depends on the users subscribed to the subreddit that you are going to post to. Reddit post analyzer is an efficient tool to help you make decisions on when to post.
Don't make your post look like an ad, which will be downvoted by most people.
3: Use Instagram Followers App to Get More Free Followers Reddit
Reddit is a large website. If you take advantage of it reasonably, you can gain 1000 Instagram followers in 5 minutes. How? The answer is using the Instagram auto followers app to get followers Reddit. Available on Android, and iOS, one is called Getinself+ for iOS, another is called Getinsita+ for Android. It allows users to get free Instagram followers and likes without limit by doing simple tasks. These followers are from real and active accounts. You can use this app without human verification, password, and survey. It's very convenient and safe.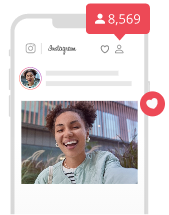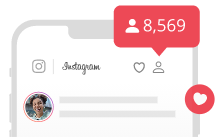 Best Free Instagram Followers & Likes App
Get real, unlimited free Instagram followers likes.
Grow daily, auto, instant Insta followers & likes.
Boost Instagram comments, Instagram reels & reels views quickly.
How to get Instagram followers free on Getinself+Getinsita+Getins+? Follow 3 simple steps below.
Step 1: Download Getinself+Getinsita+Getins+ and install it on your device.
Step 2: Sign up, log in to it, and add your Instagram username. Then you'll get hundreds of coins instantly.
Step 3: Spend coins to get 1000 free followers fast. (As long as you log into the app, you can get hundreds of coins every day.)
4: Make Comments to Get More Instagram Followers Reddit
Living in the Internet age, we communicate with others through smartphones or PCs rather than face-to-face. If you want to get more Instagram followers, you could make comments to show your personal charm.
Reply to others' questions in time, give others useful suggestions, comment on others' posts in a good manner... They are effective to help you attract others to check your profile by sharing high-quality content or making comments with interesting and humorous words. It's also a time-saving trick to put a link to your IG profile in your Reddit bio. Another trick is to put a link to your post on Instagram in the comment. Remember that your comments should be relevant content.
Also Read: 3 Best Instagram Comment Liker to Get Unlimited Comment Likes>>
5: Create New Communities to Get More Free Instagram Followers on Reddit
How to get more free followers on Instagram Reddit? One of the effective ways is to create a new community. You cannot create as many communities as you want. To prevent spam, the first requirement you have to meet to create new communities is that your account must be at least 30 days old and have enough positive karma to create communities. But if you satisfy the condition and already have enough audience bases, you can create your own community on Reddit, which will be very rewarding.
We emphasize that because it is very hard to build a community for someone who has small followers. Once you have a community, the subreddit is an ideal platform to communicate with your audience. More followers bring more participants. Then you can develop them as your Instagram followers.
Bottom line
That's all about how to get more Instagram followers Reddit. Reddit is a growing family of diverse people sharing things they care about. So getting more free Instagram followers on Reddit is a trending and effective way to improve your Instagram account. We list 5 easy methods to help you get 1000 free Instagram followers Reddit daily. Getinself+Getinsita+Getins+ is the best Instagram followers app to achieve 1M followers on Instagram. Try the Getinself+Getinsita+Getins+ app on Reddit to get more free followers.