Why we need to use a followers analyzer for Instagram? Instagram is one popular social media platform to promote your business, the more IG followers you have mean the more potential customers you have. So, for achieving your goals, one point you need to notice is that you should use an Instagram followers analyzer to analyze your followers to get a well understanding of your potential customers and know what they are interested in. Don't worry, in this article, there are 4 best Instagram followers analyzers, totally safe and efficient.
1. Insights: Free Instagram Follower Analyzer
Insights is one of the best followers analyzer for Instagram mod apk, it becomes more and more popular and is available on android devices. There are many users who give high stars on this analyzer on Google Play. With Insights, you can track your Instagram followers and know who unfollow you at any time. Also, once you log in, you will see your detailed analysis of your Instagram accounts, such as the followings, followers, total likes, and comments, and Insights will give a more detailed analysis of your followers, and classify them according to your interactions with you.
Pros:



Analyze your Instagram following thoroughly. Instagram Insights Follower Analyzer gives thorough follower analysis. It is divided into five sections: home, media, engagement, tales, and statistics. These five sections include specific information on your followers, Instagram posts, stories, performances, and engagements.
100% Free. You don't need to pay any money to analyze your Instagram account, it is totally free, and you can use it forever with $0 costs.

More than one Instagram account can be added. Insights Followers Analyzer for Instagram allows you to add multiple Instagram accounts.

Supports 16 different languages.
Cons:
2. Viewer & Analyzer on Instagram: Safe & Efficient
Instagram Viewer & Analyzer is one program that may help you examine your Instagram followers. It is available for iOS devices and has received great ratings on the App Store. With Instagram Viewer & Analyzer, you may see your followers' activities in real time, similar to a followers tracker. Aside from an Instagram followers analyser, it is an Instagram manager with extra capabilities that will help you administer Instagram accounts effortlessly and successfully.
Pros:
Track Instagram followers to know who follows you or unfollows you and get the full information and analysis about your followers.

Help you find out the best time to post on Instagram, and give the data supports to you.

Generate hashtags for Instagram users and help you get 10k Instagram followers.

Full of Instagram story templates to help you edit stories and hack more than 1000 free Instagram views.

100% safe & private to protect your private information and Instagram account safety.
Cons:
Also Read: Instagram Auto Liker Without Login >>
3. Follower Analyzer for Instagram: Easy to Use
Follower Analyzer for Instagram is a program that may help you track your Instagram followers and provide detailed information about your IG likes and comments. It is not just one app for studying your Instagram followers; it is also one app for analyzing your posts or any other Instagram accounts, allowing you to learn more about other Instagram users' secrets or numbers. The Follower Analyzer for Instagram development team has focused on user experience, and it provides speedy downloading and installation, straightforward navigation, and so on.

Pros:
Detailed analysis of your Instagram followers, comments, and likes.

Show your top posts which gained the most likes and comments.

Free & safe. This app is a free Instagram followers analyzer. Also, it is totally safe, there is no virus or malware while downloading and installing it.

Available on Android and iOS devices.
Cons:
You May Also Like: App to Get Instagram Followers Without Following >>
4. IG Reports+: Analyze Your IG Followers Comprehensively
IG Reports is an app that allows you to track your followers and analyze your IG posts in depth. Since its inception, it has grown in popularity and received several positive reviews. You may see who doesn't follow you back, who views your Instagram page, and who admires you with IG Reports+. It also offers additional features such as narrative insight, comprehensive analysis of your Instagram profiles, and so on. As you are aware, Instagram is becoming increasingly competitive; thus, you should have thorough insights about your Instagram using IG Reports+.
Pros:
100% safe & riskless. IG Reports provides totally safe and no-risk services. There is no information leaking.

Multiple functions. It is not only an Instagram followers analyzer, but also it can give you Instagram story insights.

Easy to use. You just need to download this app directly and then log in with your Instagram, clear designs, and navigation for you to use.
Cons:
You May Also Like: Instagram Free Followers Trials >>
Bonus Tip: How to Hack 10K Instagram Followers Totally Free & Safe
Followers analyzer for Instagram can largely help you analyze Instagram followers and give you deep insight into your Instagram. With this analyzer, you can notice the problems which impede the boosting of your Instagram and solve them in time to get more and more free Instagram followers. In fact, there is one common goal for every Instagram user whatever you do, that is getting Instagram followers to boost Instagram accounts and then use Instagram to benefit the business.
Luckily, there is one tool named Getinself+Getinsita+Getins+, which is the best Instagram followers app. Getins+ works on Android (names Getinsita+) and iOS (names Getinself+) realms without any problems.
With Getins+, you don't need to analyze your Instagram every day with Instagram followers analyzer online or some other tools, the first thing you need to do is to use Getins+ to get followers directly. Also, Getins+ won't cost you any money, the only thing you need to do is to follow others and like Instagram posts to get free coins, and then use coins to hack Instagram followers. Getins+ has accumulated many real and active Instagram followers, all the followers you get are totally from real and active Instagram users. Besides, Getins+ obeys Instagram rules, all the followers you get will be delivered to your Instagram accounts at an organic speed, there is no virus while installing it.

The Bottom Line
Instagram followers analyzer is one great tool to help you get a deep understanding of your followers and Instagram accounts, this article provides you 4 Instagram followers analyzers, you can choose one of them to have a try. Also, if you do these just for more Instagram followers, just download Getinself+Getinsita+Getins+, there will be more and more Instagram followers increasing on your Instagram.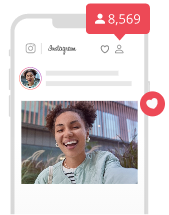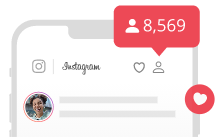 Best Free Instagram Followers & Likes App
Get real, unlimited free Instagram followers likes.
Grow daily, auto, instant Insta followers & likes.
Boost Instagram comments, Instagram reels & reels views quickly.