Whether you're a newcomer to Instagram or an expert, you should be well aware of the significance of the Instagram follower count, which is a powerful indication of a blogger's influence and appeal.
In fact, there are also plenty of ways to assist you in expanding your follower base and enhancing your competitiveness. Inviting people to follow you is a more efficient and accessible option than other traditional passive approaches based on waiting for others to notice.
So how to invite people to follow you on Instagram?

The following content will provide you with some methods and tips on how to get people to follow you on Instagram. Enjoy and read on.

How to Invite Someone to Follow You on Instagram - Conventional Method
Can you invite someone to follow you on Instagram? The answer is yes! As a well-known social media and information distribution place, IG aspires to a larger audience and active community. But how to invite someone to follow you on Instagram? Easy, you can send invitations directly with the platform if you are a newcomer, which Instagram also recommends.

Next is the conventional process on how to invite friends to follow you on Instagram.
Step 1. Log into your Instagram account.
Step 2. Go to Profile > Settings > Follow and invite friends.
Step 3. Choose a platform you prefer to share. You can send invitations to friends via email, SMS, or text message.
For instance, if you don't know how to invite Facebook friends to follow you on Instagram, you can follow the steps above and in Step 3, click on Invite friends via…, find the Facebook icon and send an invitation.
How to Invite People to Follow You on Instagram Fast?
Of course, inviting close friends is one of the best ways to boost your following. This standard method can build effective connections with your friends and expand your Instagram social community. But after all, friends are limited in number and extending invitations to new acquaintances can be awkward.
How to invite people to follow you on Instagram fast? You need to involve more strangers to accept your invitation and follow you. So this post provides you with a tool - Getins+ to ramp up your followers instantly and cost-free, allowing you to increase your follower base quickly and effortlessly.

Getins+ is developed by a professional team dedicated to facilitating Instagram members to obtain more attention and organic growth in the shortest time, allowing your unique content and ideas to be visible to a broader audience. In addition, it serves as an Instagram followers app, available for both Android and iOS devices, so don't worry about incompatibility with your phone.

What Makes Getins+ Stand Out?
Free and Unlimited Followers
Getins+ delivers free Instagram followers. Due to the coins exchange mechanism, you can enlarge the number of followers for free by performing the corresponding tasks and earning coins. Moreover, there is no limit on how many missions you can tackle or how many followers you can exchange daily.

Organic Growth
This follower booster will assist you in how to invite people to follow you on Instagram organically. The total number of followers will grow at an organically steady rate.

Safe & Private
Getins+ includes an active and natural user base, so you don't need to worry about IG censorship. Besides, the App is safe. Only your Instagram username is required, and no other important information will be tied, implying that you can gain free Instagram followers daily without password.

Fast Delivery
Generally, you can receive your followers and likes in one day. Merely grant a little time for the miracles to happen.
How to Invite People to Follow You on Instagram with Getins+
Step 1. Click the Download button below and install this App on your phone.
Step 2. You are required to create an app account with your email address. Then log in and add your Instagram username.
Step 3. Collect coins and trade them for free followers and likes. You can earn more coins with simple actions such as Lucky Draw, daily sign-in and following others.
Thanks to the support of this Instagram follower boost App, you can immediately solve the problem of how to invite people to follow you on Instagram fast.

Other Tips on How to Get People to Follow You on Instagram
Apart from the two main methods mentioned above, this post also offers some tricks to help you better resolve the issue of how to get people to follow you on Instagram.

Instagram live.
You can invite people through Instagram live broadcasts when the stable fan base is gathered. Present your invitation directly and get more people to follow you.

Collaborate with others.
If you have a brand to promote, you can cooperate with other brands or leaders in the field to maximize mutual benefits.

Put links on Instagram Profile.
You can put the link to your account in your social media profile or share a simple post about your Instagram profile with a link attached to it.

Use hashtag events.
Hashtags allow your voice to be heard by more like-minded people. You can use hashtag events on Instagram to ask people to follow you.
Final Words
From the above, you can get people to follow you in many practical ways, sending invitations through settings, live streaming on Instagram, joining hashtag events, etc.
But how to invite people to follow you on Instagram fast? The answer must be Getins+, the best Instagram followers generator, allowing you to obtain followers quickly at no cost. No doubt it could be your perfect choice; download it now and enjoy!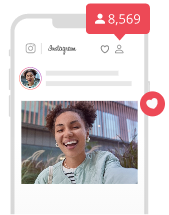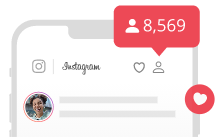 Best Free Instagram Followers & Likes App
Get real, unlimited free Instagram followers likes.
Grow daily, auto, instant Insta followers & likes.
Boost Instagram comments, Instagram reels & reels views quickly.