We all are used to checking our Instagram followers list when receiving some follower notifications. However, Instagram's algorithms have different ways to display the accounts in your follower's list. That is why it is challenging for people to get the right Instagram followers order as desired.
This article will explain the latest Instagram followers order and how you can check your Instagram followers in order, especially the chronological order. We will also share some quick tips to help you add more followers to that list without spending a single dollar.
How Instagram Followers are Ordered in Your Follower List?
As the Instagram algorithm 2023 has rolled out, people find that the Instagram followers displayed on their profiles are slightly different. The followers list on most accounts is ordered randomly, rather than in alphabetical order as before. Are Instagram followers in order now?
Because of the latest updates, Instagram displays your Instagram followers based on your mutual interaction. Those followers who frequently like your pictures, leave comments, and send DMS with you will be put on the top of your Instagram follower list. When you interact with some of your followers more often, the Instagram algorithm will start ranking them up in your followers list, as well.
Similarly, the account that you least interact with, will most probably end up at the end of your followers list. Please know that it is according to the latest Instagram algorithm update and this pattern can change in the future.
However, the interaction seems not to be the only factor determining the Instagram follower order. Accounts with less than 200 Instagram followers are still ordered alphabetically, especially those accounts that were created several years ago. It is worth noting that Instagram sorts followers alphabetically by profile name, rather than the account username. Those accounts without profile names or using special characters at the beginning will be placed at the top of the list.
How to Check Instagram Followers in Order?
As mentioned earlier, Instagram follows a complicated method to display Instagram followers order on people's profiles. You can check the followers alphabetically based on the first alphabet of the user's full name if you get an account with fewer than 200 followers. Thus, it does not require additional steps from your side to figure out your Instagram followers order.
However, if you want to check the recent followers of your profile by time order on the Instagram app, you can't rely on the Instagram follower list but have to go to your Activity tab. Go to the Activity tab and check the notification that shows who followed you recently.
Beyond that, you can go to instagram.com via your browser. Instagram allows users to view Instagram followers chronologically on its website. Just sign into your account and open the Follower list. A small box will pop up where you can scroll down to see who has followed you recently.
Instagram Followers Order Trick: Add More Followers to Your List
When you check your Instagram followers, you may feel like there are not enough people following you. It is because the Instagram game is way more complicated now and people hardly follow other accounts. That is why you need to find a reliable solution to get more Instagram followers on your list.
Some methods include interacting with others, sharing more content, and asking others to follow your account to grow Instagram followers. However, these methods are not so effective when finding followers in large numbers. In such cases, you can rely on apps like Getins+ to get more followers.
Getins+ is an instant Instagram followers app that provides you with a platform where you can gain Instagram free followers trials with app coins and ask people to follow your account. Earning coins is quite easy and it gives away a few hundred coins as long as you log in to the application every day. The best part is this application works on both Android (Getinsita+) and iOS (Getinself+). Let's go into this app based on your system.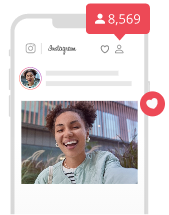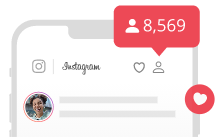 Best Free Instagram Followers & Likes App
Get real, unlimited free Instagram followers likes.
Grow daily, auto, instant Insta followers & likes.
Boost Instagram comments, Instagram reels & reels views quickly.
Main Features of
Getinself+
Getinsita+
Getins+
When we talk of this application, the most important thing is its features. Here are the main features:
Unlimited and Free - The best thing about the application is you can get unlimited free Instagram followers. There's no need to spend any money to get Instagram followers.
Real Instagram Followers - One risk of getting quick followers is you may end up with some fake followers that end up affecting your profile's authority. However, Getinself+Getinsita+Getins+ provides real Instagram followers who are active on the platform.
Quick Delivery - You do not need to wait for the followers anymore. You will start getting followers as soon as you publish the task on this Instagram follower boost app.
No Risk - Unlike other followers applications, this one is a risk-free solution used by millions of users worldwide.
Get More Followers on Instagram with
Getinself+
Getinsita+
Getins+
Here is the complete guide that will help you get more followers on Instagram with Getinself+Getinsita+Getins+.
Step1- Download the App
Download the Getinself+Getinsita+Getins+ application on your device to get Instagram followers easily. Tap the Free Download button below.
Step2 - Setup Your Account
The next step is to set up your account on this application. Start by creating an account on Getinself+Getinsita+Getins+ by providing your email address. After that, add your Instagram username to the newly created account as shown in the below picture.
Step3 - Publish Followers Task
Publish the task for the number of followers you need using coins. You will be rewarded with app coins for your first logging in. Various tasks are also ready for you to collect more coins.
Also Read: How to Get Instagram Followers with Coins >>
The Bottom Line
Checking the Instagram followers order is a challenging task when you do not understand how it works. The above guide explained how you can check Instagram following list order in different ways. So, the next time you wonder how to see Instagram followers in order, check back this guide and get these different ways to see your followers list online.
Do remember to check out the Instagram followers app we shared to increase the Instagram followers reliably. It will give you a great way to stay on top of the Instagram game without putting in much effort.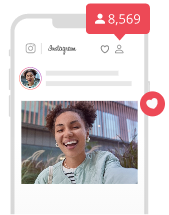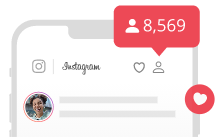 Best Free Instagram Followers & Likes App
Get real, unlimited free Instagram followers likes.
Grow daily, auto, instant Insta followers & likes.
Boost Instagram comments, Instagram reels & reels views quickly.